Get a marijuana card online in Maryland
Check cannabis laws in MD and your qualifying conditions with Heally services. Apply for the MMJ medical card in Maryland in 15 minutes. Schedule a consultation with licensed doctors via our HIPAA-compliant telehealth services. It is easy to get a cannabis card in MD: register with Heally, visit a doctor online, and get your MMJ certification by email.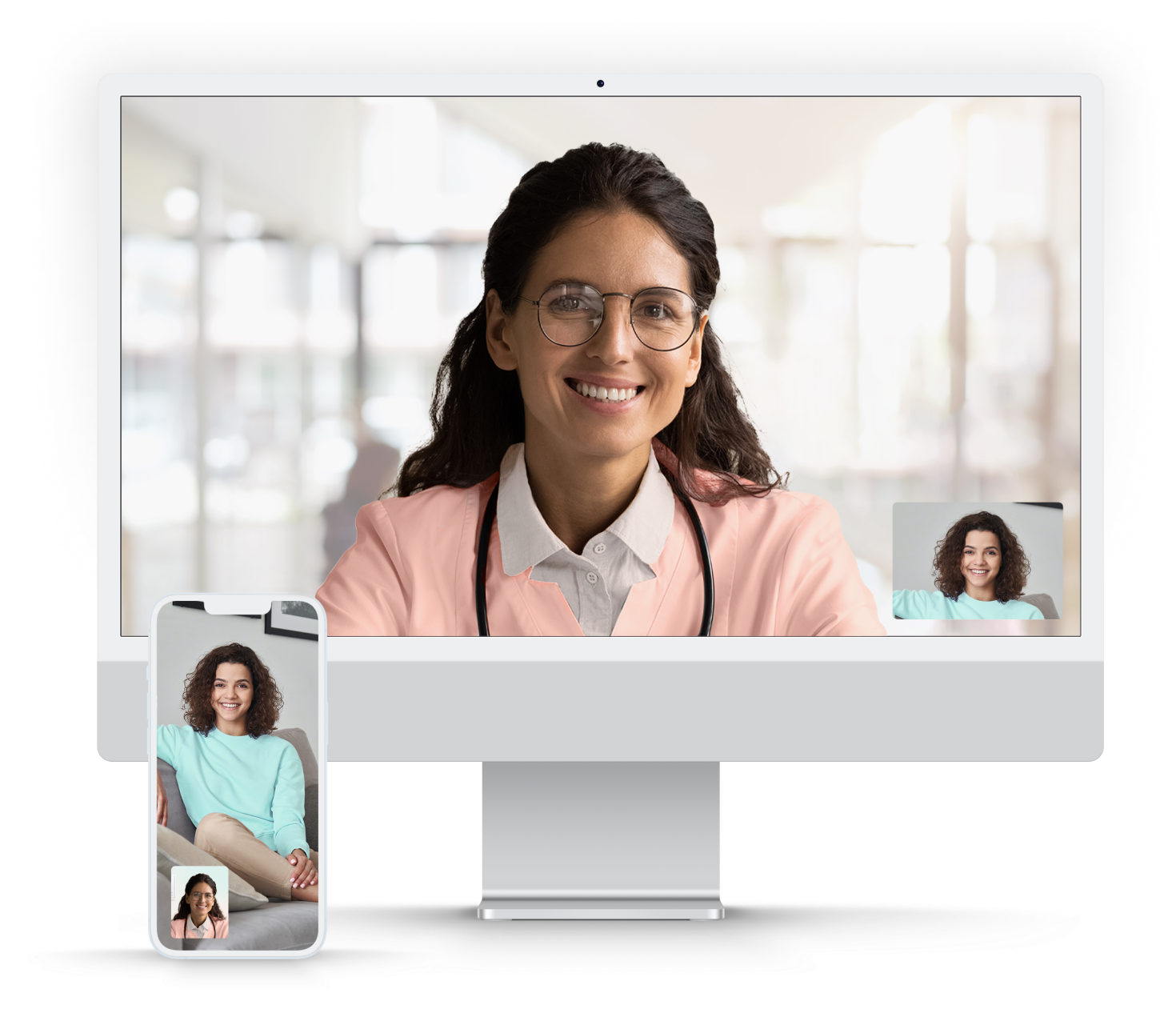 How to get a medical marijuana card in Maryland?
You can connect to marijuana doctors from 8 AM to 10 PM every day. Schedule a consultation at a convenient time. Heally makes it easy to get a weed card in MD in 15 minutes with a 4-step registration process. See the step-by-step instructions below on how to get a medical marijuana card in Maryland.
Review Qualifying Conditions

The first thing you'll need to do is review the qualifying conditions for a medical marijuana card in Maryland. It might be chronic pain, severe nausea, wasting syndrome, or any other from the list. To discover what conditions are considered qualifying, search for further information on our site or book an appointment to receive a personal consultation on your case.

Register with Heally

Fill out a quick intake form to get started with the MD medical card process.

Visit Online Your Medical Marijuana Doctor

Book your appointment with a certified medical marijuana doctor. You can do this instantly or schedule one at your convenience. The doctor will review your current medical conditions and explain your options.

Receive Your Medical Marijuana Card in MD

Your appointment will generally be about 15 minutes. The doctor will either electronically or mail the medical card to you, and submit it to the State of Maryland.
Once you have registered with Heally and approved by the doctor, you must log in to your Maryland Medical Marijuana registry and pay the state fee.
Our Maryland Medical Marijuana Card State Process
Before you start, have these supporting documents ready:
An email from the Maryland Medical Cannabis Commission confirming that your application has been accepted after applying for your MMCC# here.You will need your MMCC number for your appointment.
A debit or credit card.
US-issued government ID – such as a state-issued driver's license, state-issued ID card, passport, or military ID.
(2) Proof of address. If the identification provided is NOT a Maryland driver's license or MVA ID Card or does not identify your current address.

MVA registration card or title, or change of address card.
Utility, telephone, or cable/satellite TV bill.
Bank account statement.
Property tax bill.
Mortgage statement or proof of home ownership (Deed, Title, Bill of Sale).
Major credit card bill (Visa, MasterCard, Walmart, Target, etc.).
Residential rental contract (lease or rental contract between landlord and tenant, which includes all signatures).
Selective Service Card.
Federal, state, or local government mail issued by the state of Maryland (i.e. Social Security, social services).
Car insurance policy.
Pay Stubs (dated within 90 days).
W-2 statements.
State of Maryland Health Insurance issued documents (i.e. Medicaid, Medicare, Maryland Health Connection.

An electronic, high-resolution copy of a clear, recent photo of yourself.
The Application Process:
Once you have been approved by a Heally physician and provided your Maryland patient number, our physician will submit your medical marijuana certification. You do not need to do anything. The physician will provide all supporting documentation on your behalf to the Maryland Medical Cannabis Commission (MMCC).
MMCC will review your application and the certification provided by the doctor. They will email you once you have been approved.
Log back into your existing state account at https://onestop.md.gov/users/sign_in.
Within this account, you can print your temporary MMCC patient ID card. Your physical card, paid for when you first registered, will be mailed to you within 90 days.
You can purchase medical cannabis from a licensed Maryland dispensary using your temporary card, with ID until the physical MD medical card arrives.
Notes:
When purchasing medical cannabis at a licensed dispensary, you will be required to present either your permanent or temporary MMCC ID card. The dispensary agent will verify your certification in the Commission's database before conducting any transaction.
You may only purchase and obtain a maximum of a thirty-day supply of medical cannabis at one time.
The State-issued card/MMCC# is valid for three years. The approval from the provider must be renewed yearly so you can continue purchasing medication.
Testimonials from patients who got MMJ cards with us
4.9 rating of 631 reviews
"
The best place I've found. They make the entire process easy to follow, answer all questions you may have and are always available when you need an initial recommendation or a renew.
"
Easy fast effortless process! Recommend to all!
Jan 13, 2022,
Samantha S.
"
This was so easy and quick!! Recommending to everyone I know!!
"
So Happy with the Dr who saw me AGAIN this year! He was thorough and very personable! Took time to Listen to me. Excellent response from Him and your team! Thank You for Helping Me 🥰
Nov 22, 2021,
Kimberly S.
"
Amazingly stress free and quick. Dr was great and thorough. Easiest visit ever! Thanks!
"
Fast,easy, straight to the point thank you for a efficient visit
Aug 19, 2021,
Hungchih C.
Aug 11, 2021,
Pt: I. M. 0. C.
"
Dr Badii was amazing! He heard me out, allowed me to ask questions, and answered all my questions in a very patient and professional manner. Thank you Dr Badii!
"
Very friendly doctor and easy to talk to. Didn't take long and she was understanding.
"
Vanessa Niles was very compassionate and effective in helping me in a kind, professional manner. Thank you!
"
The whole procedure from beginning to end was easy to complete. They were very helpful and professional.
"
Great experience for my first time! Highly recommend for anyone who's thinking about getting their card.
Jul 22, 2021,
Melinda . M.
"
Dr Kendrick met and exceeded exceptions as she answered each of my questions and we together made sure I completely understood instructions. Excellent communication and truly cares about my well being which tells me she'll care about yours.
"
renewed by card on your web site. Very easy to use and only takes a short time. Doctor was very nice and answered my questions.
"
Dr. Vanessa Niles is the best doctor ever! I appreciate her genuine soul, I will never forget her kindness.
Jul 21, 2021,
Anthony . I.
"
Fast , easy and my doctor was very kind glad I chose heally. Would recommend!
Jul 20, 2021,
Stephanie H.
"
Dr. Jassey has been fantastic the last two years in assisting me with my medical cannabis needs. He's thorough and provides helpful recommendations, all while making the process simple and easy for the patient. Much thanks and appreciation for Dr. Jassey and the heally+ team. Also, thanks to Jovan, whom assisted me through chat to connect to my visit.
Jul 16, 2021,
Christopher M.
"
Amazing service, the doctors are always very nice and they always listen. Never have had a problem through heally and will continue to use them as long as I have a card
Jul 13, 2021,
Danielle B.
"
Such a kind and knowledgeable doctor. She took her time reviewing my medical situation and explaining things to me and she was incredibly helpful in helping me understand the process.
"
Dr. Koffler was very helpful and personable. He explains the benefits and combinations specific to my medical needs and clarifies any questions I have.
"
Excellent, easy to understand very professional service, thank you
Jul 10, 2021,
Cheyenne B.
"
Very friendly and very fast service. I was both surprised and happy with the level of care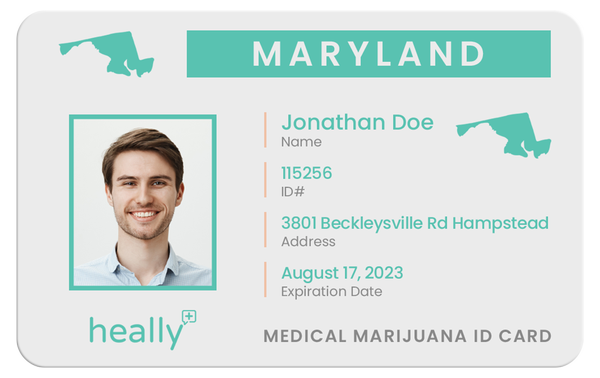 Maryland





Not sure if you qualify?
Don't worry,
if the doctor does not approve you,

you will get your money back.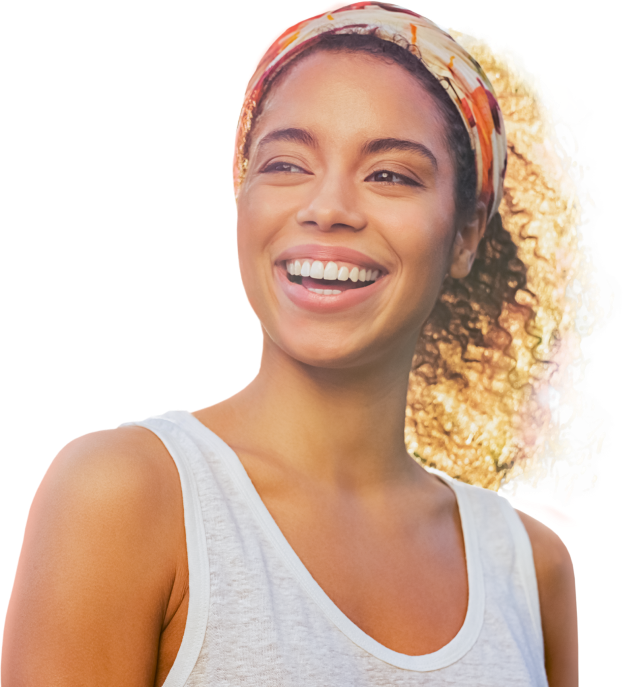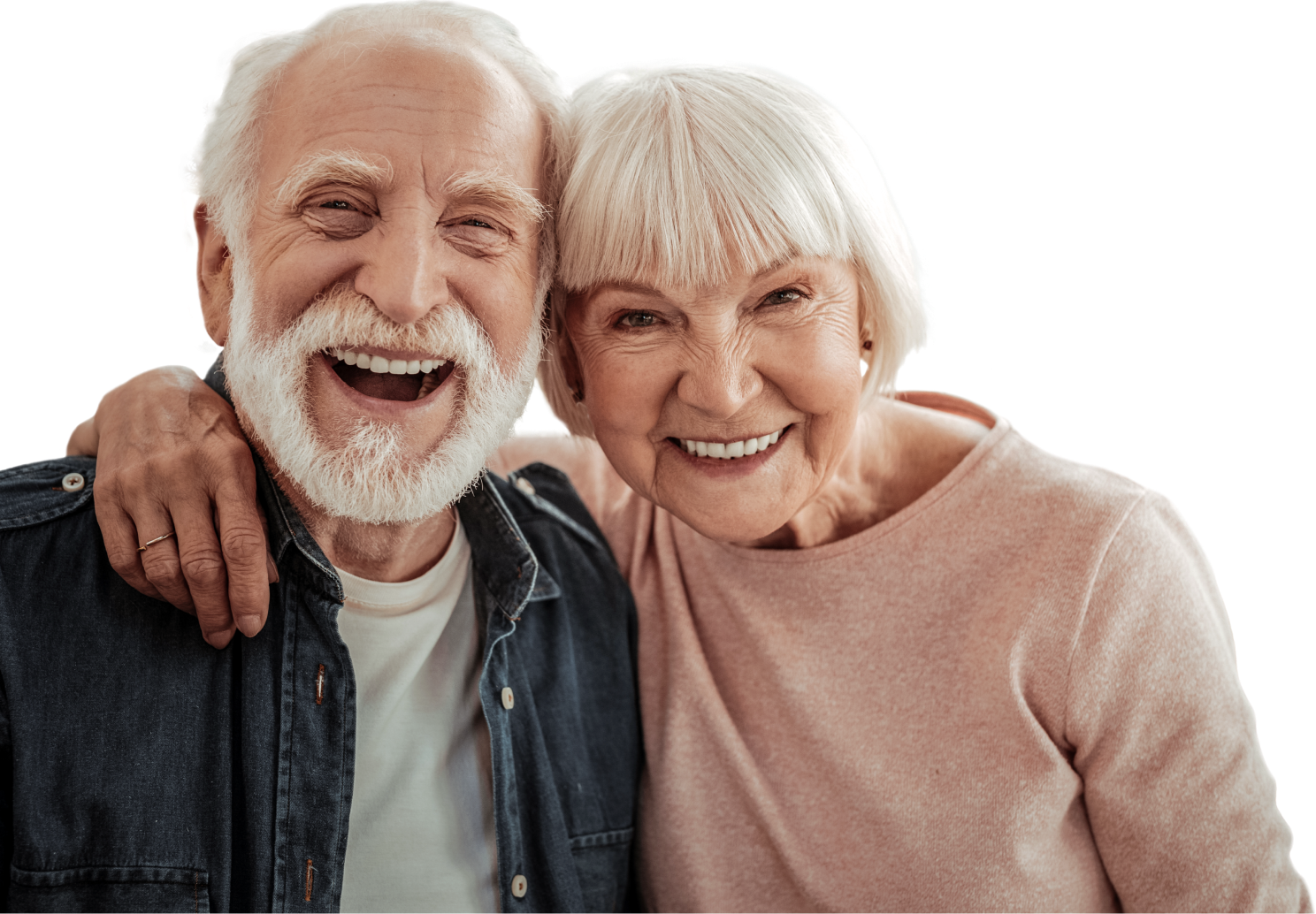 Qualifying conditions for getting an MMJ card in Maryland
The State of Maryland has specified a handful of health conditions that qualify for medical marijuana. In addition, the State also considers health issues that have not responded to traditional treatments as qualifying conditions for MMJ certification. Below are some disorders that make you eligible for an MD marijuana card in 2023:
Severe conditions where other medical treatments have been ineffective
Severe nausea
A medical condition requiring hospice admittance or receiving palliative care
Renew your MMJ card in Maryland
In Maryland, medical cannabis cards, also known as MMJ cards, have to be renewed every year. To continue to possess and use medical cannabis in the state legally, patients must go through the renewal process with the Maryland Medical Cannabis Commission (MMCC). A written certification for the use of medical cannabis must be obtained in order to renew an MMJ card, and one must visit a licensed healthcare provider. The patient then delivers the certification, the renewal application, and any other required paperwork to the MMCC. The MMCC will review the application and, if approved, issue a renewed MMJ card.
Patients can renew their cards in Maryland as long as they are still eligible for medical cannabis treatment. Patients must have a valid certification from a licensed healthcare provider and meet all other requirements set forth by the MMCC.
It's worth noting that if a patient's certification expires before their MMJ card, the patient must obtain a new certificate from their healthcare provider before they can renew their MMJ card.
Overall, patients who meet the prerequisites and possess a current certification from a healthcare professional are eligible to renew their cards for cannabis use in Maryland.
Medical marijuana card for minors in Maryland
In Maryland, minors (anyone under the age of 18) can qualify for treatment with medical marijuana. To do so, they must have at least one (but as many as two) registered caregivers, with one being a legal guardian or parent caregiver. The process for registering a minor is the same as an adult, except the caregiver will need to do it on behalf of the patient.
Sign Up
Register a caregiver with Heally in MD
The state of Maryland allows medical cannabis patients to designate up to two caregivers at one time. To become a caregiver in Maryland, you'll need to receive approval from the MMCC and get an ID card.
Sign Up
Marijuana laws in Maryland
Marijuana is legal for medical use in Maryland. In 2013, the state passed legislation allowing for the use of medical cannabis with a valid MMJ card.
Getting an MMJ card in Maryland can be a straightforward process, but it depends on the patient's medical condition and the availability of a licensed healthcare provider who is willing to certify the patient for medical cannabis use. Patients must obtain a written certification from a qualified healthcare provider and have a qualifying condition, such as chronic pain, PTSD, or a terminal illness.
Patients can use medical cannabis in the privacy of their own homes or in other private spaces where the use of cannabis is not prohibited. There is an application fee of $50 for new applications, $25 for veterans, and $100 for a replacement card.
How does Heally help you get a marijuana card in Maryland?
In Maryland, it is possible for patients to meet with a doctor in person or via telemedicine for certification for medical cannabis use.

If a patient already has a valid MMJ card and would like to renew it, it is possible to do so through telemedicine companies like Heally. Patients must still meet all requirements and hold a valid certification from a physician or other qualified healthcare provider.

The convenience of consulting with a healthcare professional from the comfort of one's home and possibly having access to a wider range of healthcare providers are two advantages of using a telemedicine service like Heally. Additionally, it may save patients time and money compared to in-person visits.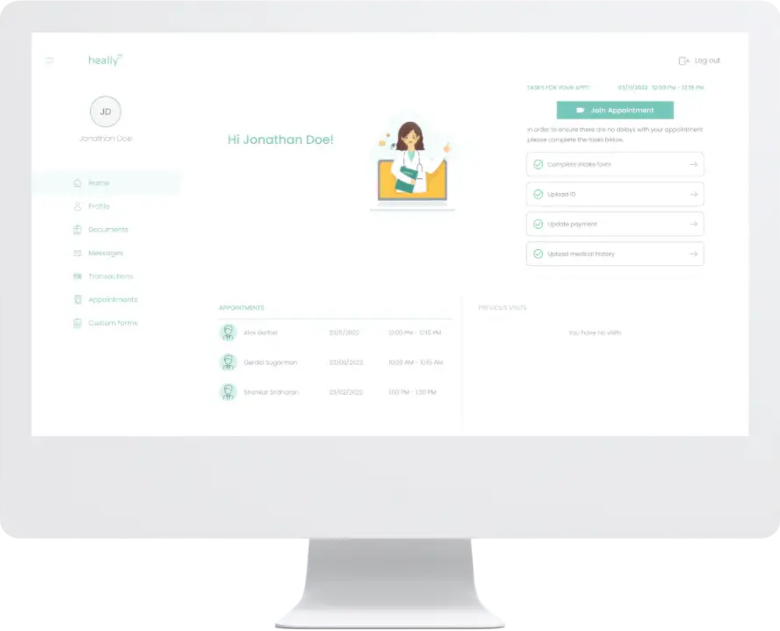 6 Reasons to Choose Heally to Get a Weed Medical Card in MD
Heally provides an easy-to-follow online process for obtaining an MMJ card in Maryland. Without leaving their homes, patients can apply for an MMJ card, doing away with the need to go to the doctor's office.
All of the physicians on the Heally platform are licensed and qualified to recommend MMJ for qualifying medical conditions. Patients can be confident that they are receiving a qualified medical professional's professional evaluation.
The affordable cost of Heally's MMJ card application services makes them available to a broader range of patients. The price of obtaining an MMJ card through Heally is affordable when compared to alternative options.
Heally's online platform is quick and easy to use, allowing patients to get their MMJ cards quickly.
Heally is concerned about Patient privacy and security. Patient data is never shared with outside parties and personal information about patients is protected using industry-standard security measures.
Heally offers excellent customer service, with a team of knowledgeable and friendly support agents on hand to help patients with their MMJ card applications. Patients can contact Heally for assistance at any time during the process.
Cannabis types in Maryland
In Maryland, patients can find a variety of cannabis products that have been approved for medical use. These products include:
Dry flower. This is the traditional form of cannabis and is the dried and cured buds of the cannabis plant. It can be consumed by smoking or vaporizing.
Oils and tinctures. These products are made by extracting the active compounds from the cannabis plant and then mixing them with a carrier oil or alcohol. They can be taken orally or applied topically.
Capsules. These are similar to oils and tinctures but are encapsulated for easy dosing and consumption.
Topicals. These are cannabis-infused creams, lotions, and balms that can be applied to the skin for localized pain relief.
Transdermal patches. These are similar to topicals but are designed to be applied to the skin and worn for an extended period of time, allowing for extended and consistent dosing.
Edibles. These are food products that have been infused with cannabis, such as brownies, cookies, and gummies.
The dispensary and the patient's certification may have an impact on the products' accessibility. Please note that other forms of cannabis, like extracts or concentrates, are not allowed under Maryland's MMJ program.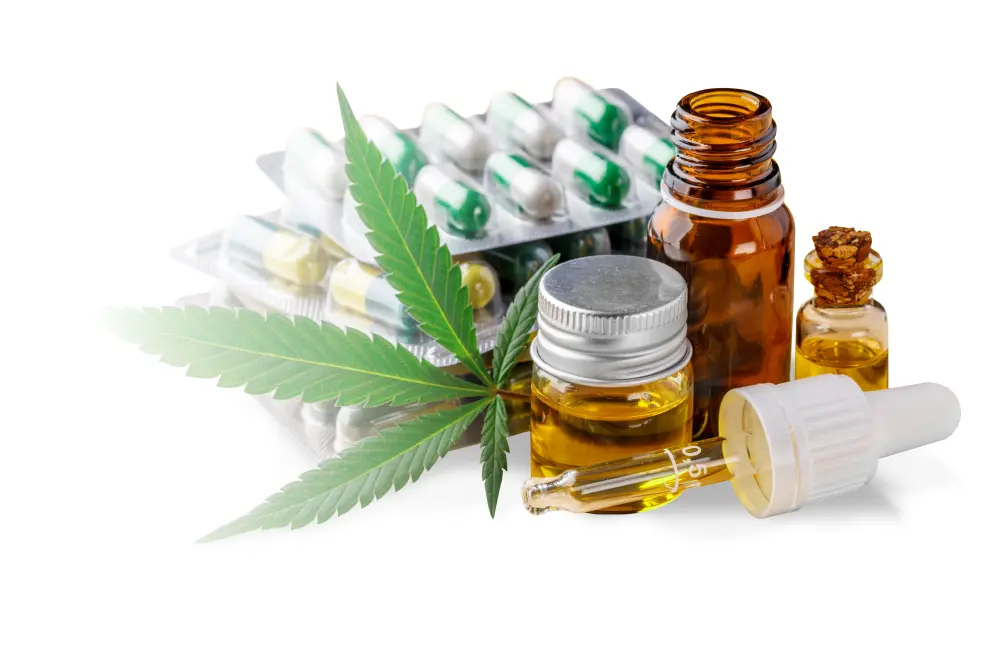 Talk to a doctor online today
Video conference with your certified physician entirely online from the comfort of your home.
FAQ for medical marijuana cards and marijuana laws in Maryland
How to apply for a medical marijuana card in Maryland online?
To apply for a medical marijuana card in Maryland online, patients must follow these steps:
Obtain a written certification from a licensed healthcare provider that states the patient has a qualifying condition for medical cannabis use.
Register with the Maryland Medical Cannabis Commission (MMCC) by creating an account on their website.
Submit the written certification, along with the application and any required documents, through the MMCC's online portal.
Pay the application fee of $50 for new applications, $25 for veterans, and $100 for a replacement card.
Wait for the MMCC to review and approve the application. If approved, the patient will receive their MMJ card in the mail.
Does Maryland accept out-of-state MMJ cards?
Maryland does not accept out-of-state MMJ cards. Visitors who wish to use medical marijuana in Maryland must obtain a valid MMJ card from the government.
What are Maryland marijuana laws?
It is acceptable to possess and use medical cannabis in Maryland if you have a valid MMJ card. However, it is illegal to possess or use recreational cannabis. Consuming cannabis is also prohibited when driving or doing so in open areas.
How to qualify for a marijuana card in Maryland?
To qualify for a marijuana card in Maryland, patients must have a qualifying condition such as chronic pain, PTSD, or a terminal illness and must obtain a written certification from a licensed healthcare provider.
How to renew a cannabis card in Maryland?
To renew a cannabis card in Maryland, patients must go through the process of obtaining a new written certification from a healthcare provider and then submit the certificate along with the renewal application and required documents to the MMCC.
Is cannabis legal in Maryland?
Please note that these regulations and laws might change as well as the fee, so it's important to check the official website of the Maryland Medical Cannabis Commission for the most current information.
News about cannabis in MD

Dr. Krasne
This information was reviewed by Dr. Krasne
Dr. Benjamin Krasne is a board-certified anesthesiologist. After attending the University of Florida, Dr. Ben matriculated to the University of Miami Miller School of Medicine. Dr. Krasne completed his residency at Jackson Memorial Hospital in 2017. Since graduating residency Dr. Krasne has worked throughout the United States as a traveling anesthesiologist while providing remote driven out-patient clinical services as well.
Last update: 06/28/2023