Get a marijuana card online in Ohio
Check cannabis laws in OH and your qualifying conditions with Heally services. Apply for the MMJ medical card in Ohio in 15 minutes. Schedule a consultation with licensed doctors via our HIPAA-compliant telehealth services. It is easy to get a cannabis card in OH: register with Heally, visit a doctor online and get your MMJ certification by email.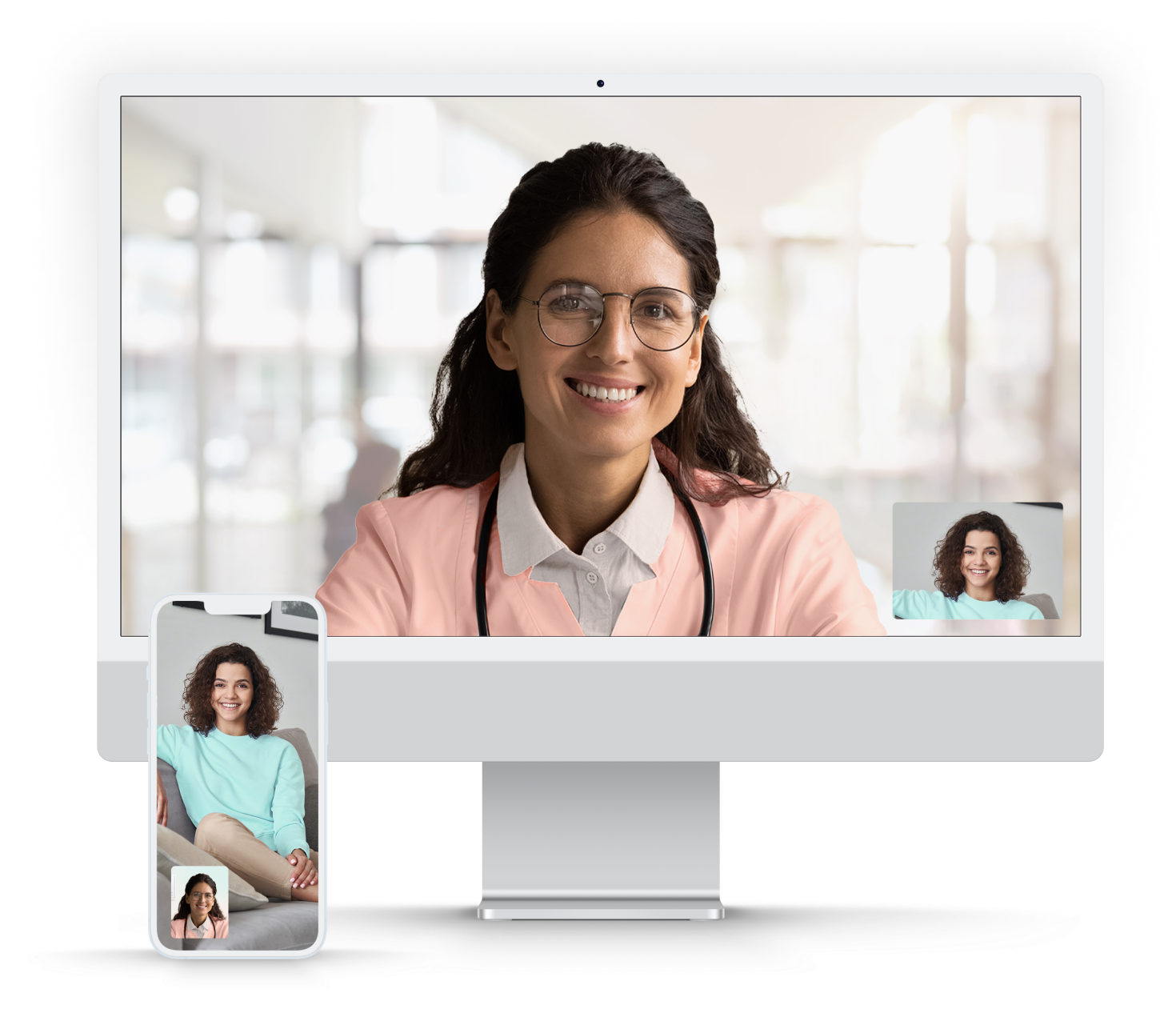 How to get a medical marijuana card in OH
Consultations with licensed marijuana doctors are available from 8 am to 10 pm, 7 days a week, and everything can be done online. Heally makes the process of getting an MMJ card fast and easy.
Check Your Qualifying Conditions in OH

The first thing you'll need to do is review the qualifying conditions for a medical marijuana card in Ohio. See the list of approved conditions below.

Register with Heally

Fill out our quick intake form to get started with the Ohio medical card process.

Visit Online Consultation With Your Medical Marijuana Doctor

Book your appointment with a certified medical marijuana doctor. You can do this instantly or schedule one at your convenience.

Receive Your Medical Marijuana Card in OH

Your appointment will generally be about 15 minutes. The doctor will either mail your certificate to you, submit it to the State of Ohio, or send it to your pharmacy of choice.
Once you have registered with Heally and approved by the doctor, you will need to log in to your Ohio Medical Marijuana registry and pay the state fee of $50. Your Ohio medical marijuana card is valid for 52 weeks.
Ohio State Process for Getting Your Medical Marijuana Card Online
Heally makes getting your Ohio medical marijuana card online fast and simple. Complete the following steps to submit your application.
Once your physician on the Heally platfrom has entered your details into the registry, you'll recieve an email from no-reply-pmpaware@globalnotifications.com with the subject line "Ohio Medical Marijuana Registry User Activation." Click the link and follow the instructions to create your Registry password - note, you can only click the link once! If you attempt to click it more than once, you will be given an error message. If you need your email sent again, please send your name and date of birth to MMCPRegistry@pharmacy.ohio.gov so your email can be re-sent..
Create a Registry password and choose a time zone
Review the Information provided by your Physician on the Heally platform (you can contact us at support@getheally.com if you notice any incorrect information).
Click "Activate Card" and submit your registration fee
Download and print your card. Click the 'Download' button and save your card to your computer or cell phone You can either print out this document in hard copy or have it visible on your cell phone to show the medical marijuana dispensary.
You can now purchase your medical marijuana. You will need to show your medical cannabis card (in digital or printed format) and a valid form of photo identification every time you purchase medical marijuana from an Ohio dispensary.
Testimonials from patients who got MMJ cards with us
4.9 rating of 631 reviews
"
The best place I've found. They make the entire process easy to follow, answer all questions you may have and are always available when you need an initial recommendation or a renew.
"
Easy fast effortless process! Recommend to all!
Jan 13, 2022,
Samantha S.
"
This was so easy and quick!! Recommending to everyone I know!!
"
So Happy with the Dr who saw me AGAIN this year! He was thorough and very personable! Took time to Listen to me. Excellent response from Him and your team! Thank You for Helping Me 🥰
Nov 22, 2021,
Kimberly S.
"
Amazingly stress free and quick. Dr was great and thorough. Easiest visit ever! Thanks!
"
Fast,easy, straight to the point thank you for a efficient visit
Aug 19, 2021,
Hungchih C.
Aug 11, 2021,
Pt: I. M. 0. C.
"
Dr Badii was amazing! He heard me out, allowed me to ask questions, and answered all my questions in a very patient and professional manner. Thank you Dr Badii!
"
Very friendly doctor and easy to talk to. Didn't take long and she was understanding.
"
Vanessa Niles was very compassionate and effective in helping me in a kind, professional manner. Thank you!
"
The whole procedure from beginning to end was easy to complete. They were very helpful and professional.
"
Great experience for my first time! Highly recommend for anyone who's thinking about getting their card.
Jul 22, 2021,
Melinda . M.
"
Dr Kendrick met and exceeded exceptions as she answered each of my questions and we together made sure I completely understood instructions. Excellent communication and truly cares about my well being which tells me she'll care about yours.
"
renewed by card on your web site. Very easy to use and only takes a short time. Doctor was very nice and answered my questions.
"
Dr. Vanessa Niles is the best doctor ever! I appreciate her genuine soul, I will never forget her kindness.
Jul 21, 2021,
Anthony . I.
"
Fast , easy and my doctor was very kind glad I chose heally. Would recommend!
Jul 20, 2021,
Stephanie H.
"
Dr. Jassey has been fantastic the last two years in assisting me with my medical cannabis needs. He's thorough and provides helpful recommendations, all while making the process simple and easy for the patient. Much thanks and appreciation for Dr. Jassey and the heally+ team. Also, thanks to Jovan, whom assisted me through chat to connect to my visit.
Jul 16, 2021,
Christopher M.
"
Amazing service, the doctors are always very nice and they always listen. Never have had a problem through heally and will continue to use them as long as I have a card
Jul 13, 2021,
Danielle B.
"
Such a kind and knowledgeable doctor. She took her time reviewing my medical situation and explaining things to me and she was incredibly helpful in helping me understand the process.
"
Dr. Koffler was very helpful and personable. He explains the benefits and combinations specific to my medical needs and clarifies any questions I have.
"
Excellent, easy to understand very professional service, thank you
Jul 10, 2021,
Cheyenne B.
"
Very friendly and very fast service. I was both surprised and happy with the level of care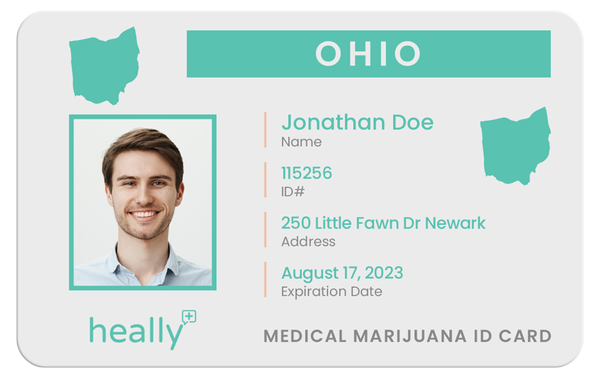 Ohio





Not sure if you qualify?
Don't worry, if the doctor does not approve you, you will get your money back.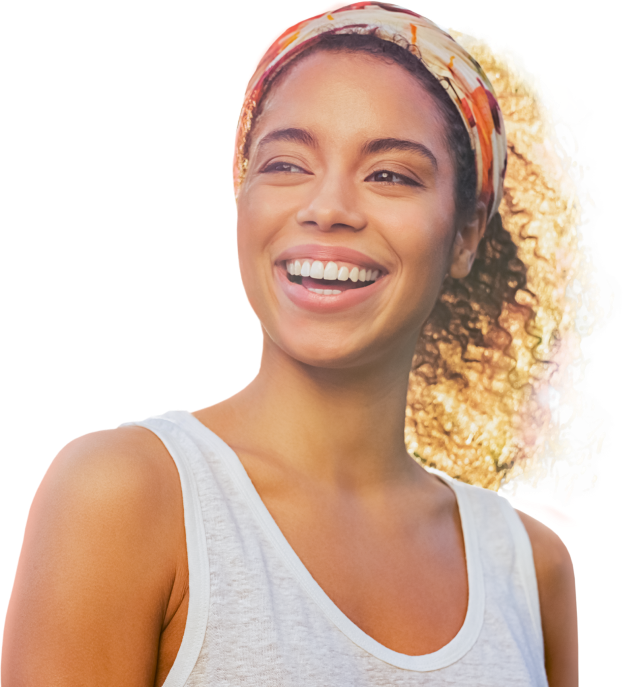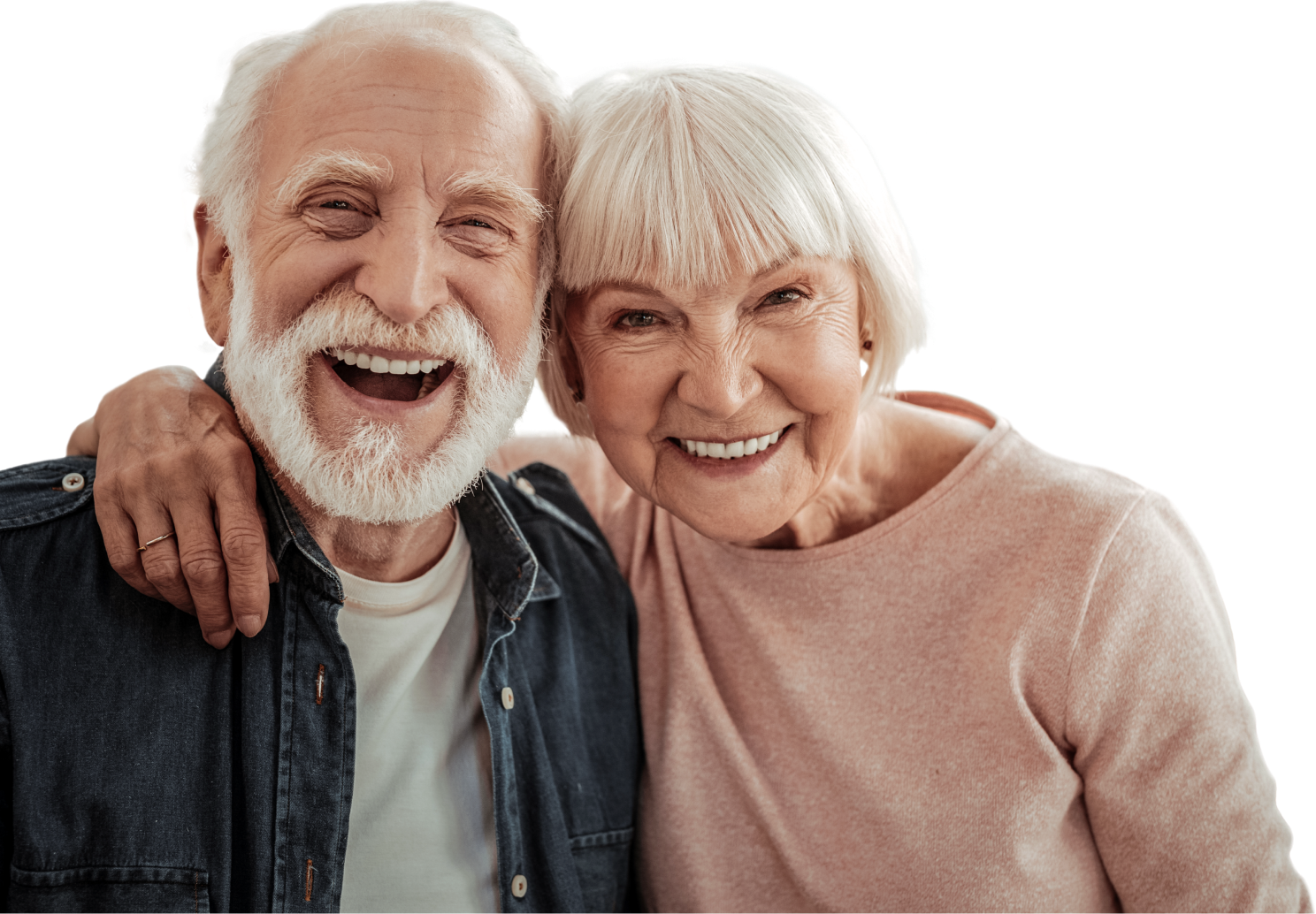 Qualifying conditions for getting MMJ card in Ohio
The state of Ohio has approved the following qualifying conditions for its medical marijuana program.
Hepatitis C
Inflammatory bowel disease
Chronic traumatic encephalopathy
Terminal illness
Traumatic brain injury
Renew your MMJ card in Ohio
Maintaining the validity of your Ohio marijuana card involves a straightforward process as per the Ohio Board of Pharmacy's guidelines. You are eligible to initiate the renewal of your card 90 days prior to the expiration date printed on your registry card. Here's how the renewal process works:
Schedule an Appointment: To ensure your Ohio marijuana card remains active, schedule a yearly appointment with a certified marijuana doctor. This consultation is necessary to obtain a renewed medical marijuana card.
Obtain a Recommendation: During the appointment, the doctor will provide a new written recommendation that's crucial for renewing your card.
Activate Card Renewal: After receiving the doctor's recommendation, you'll need to access your Ohio Medical Marijuana Registry account. Here, you'll trigger the renewal process for your marijuana card.
Follow Prompts: Once logged into your account, locate and click the "Renew Card" button. Then, follow the provided prompts to complete the process.
Pay Registration Fee: A non-negotiable registration fee of $50 is required to finalize the renewal application process.
By following these steps, you can effortlessly renew your Ohio marijuana card, ensuring its validity for continued access to medical marijuana.
Medical marijuana card for minors in Ohio
In Ohio, medical marijuana is accessible to minors. If the patient is under eighteen years of age, a certified physician can still provide a medical marijuana recommendation. Nevertheless, in such cases, the responsibility falls upon the patient's parent or guardian, who must apply on behalf of the minor patient and also assume the role of their caregiver. The caregiver role is essential: the parent or guardian is required to submit a caregiver registration form via the OMMCP website and successfully fulfill all necessary screening procedures to gain eligibility.
Sign Up
Register a caregiver with Heally in Ohio
Fortunately, the procedure for becoming a registered medical marijuana caregiver in Ohio is relatively straightforward, though there are a few minor steps to navigate through in order to complete the registration process.

As per the resource guidelines for medical marijuana caregivers in Ohio, the process is uncomplicated and can be accomplished with ease by following these steps:
Registry Identification Cards: It's mandatory for both patients and caregivers wishing to procure medical marijuana to have a state-issued medical marijuana patient ID card.
Caregiver Eligibility: An individual who is 21 or older can act as a caregiver for a maximum of two medical marijuana patients. Conversely, each patient is allowed up to two caregivers.
Patient and Caregiver Registration: The recommending physician, or their delegate, is responsible for submitting the caregiver's and patient's names to the Ohio Board of Pharmacy's medical marijuana patient and caregiver registry upon issuing a recommendation for medical marijuana.
In light of the temporary guidelines established by the Board of Pharmacy due to the COVID-19 pandemic, caregivers now have the option to submit their Caregiver Registration application directly to the state board. However, this option is limited to patients who are already registered and active in the system.
Sign Up
Weed laws in Ohio
Medical marijuana in Ohio is regulated under the stringent parameters of the Ohio Medical Marijuana Control Program. For legal compliance, individuals must have a verified qualifying medical condition, engage the assistance of a physician to enroll in the state registry, and acquire marijuana strictly from a state-sanctioned dispensary. Individuals are allowed to hold only up to a 90-day supply and are prohibited from cultivating or obtaining marijuana by any other means.

Recreational marijuana is unlawful in Ohio, but possession does not always lead to criminal charges. If found in possession of less than 100 grams (approximately 3.5 ounces), it's regarded as a minor misdemeanor, subject to a $150 fine. Notably, a minor misdemeanor typically does not result in a criminal record. However, possession exceeding 100 grams is criminal and can be charged as a standard misdemeanor or a felony, depending on the quantity. The ramifications upon conviction can vary, factoring in elements such as the quantity possessed and any aggravating factors. Unconditionally, cultivation of marijuana is illegal, with those caught likely facing possession charges.
How does Heally work in Ohio?
Through the telemedicine platform Heally, patients in Ohio can consult with certified doctors for evaluations and certifications of their medical marijuana use. Heally is legit in Ohio and compliant with state laws. Patients can complete the evaluation process completely online, and do not need to meet the doctor in person. It is possible to renew a medical card in Ohio with Heally's services as well. Please take note that patients must renew their cards every 12 months from the date of issuance in accordance with the Ohio Medical Marijuana Control Program (MMCP).

Heally's patients can use the cards they get in Ohio only in Ohio, as medical marijuana cards issued in Ohio are not recognized by other states. Patients in Ohio can complete the evaluation process from the comfort of their own home with Heally, and their medical marijuana card will be delivered right to their door. This provides patients with convenience and accessibility.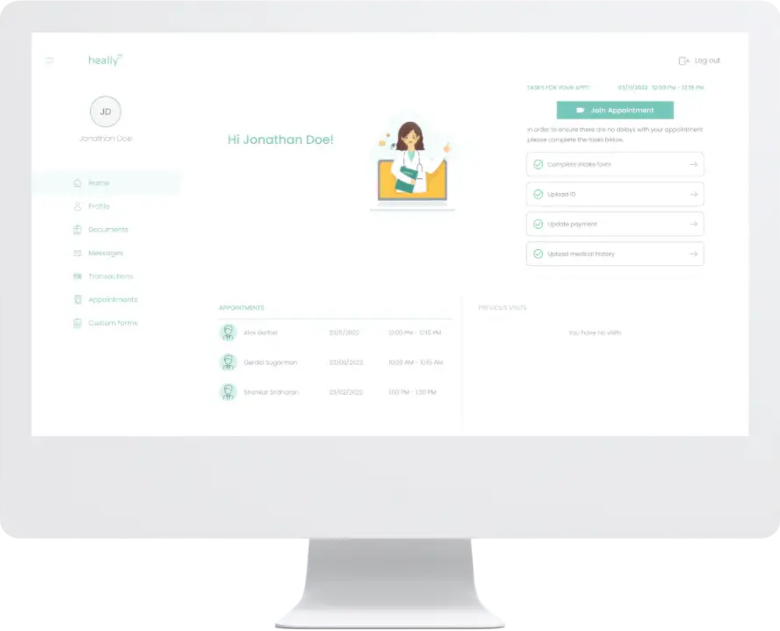 Choose Heally to get a weed medical card in OH
Heally allows patients to complete the medical marijuana evaluation process entirely online, from the comfort of their own home.
Heally connects patients with licensed physicians for medical marijuana evaluations and certifications, making it easy for patients to access medical marijuana.
Heally streamlines the process of getting a medical marijuana card, making it quick and easy for patients to get the help they need.
Heally respects patients' privacy and keeps their personal information secure and confidential.
Heally's customer service team is available to assist patients throughout the process of getting a medical marijuana card, and answer any questions they may have.
Heally offers competitive prices for its services and patients can save money compared to in-person evaluations.
Cannabis types in Ohio
Medical marijuana users in Ohio have access to a range of cannabis goods, including flower, edibles, tinctures, and topical products. The flower can come in different strains, each with its own unique combination of THC and CBD. Patients can find a wide range of cannabis strains available in Ohio, each with different effects and benefits.

Some of the most common cannabis strains found in Ohio include those high in CBD, such as ACDC, Charlotte's Web, and Harlequin, and those high in THC, such as Sour Diesel, Blue Dream, and Girl Scout Cookies. Also readily available are a variety of edibles, such as gummies, chocolates, and baked goods. There are also tinctures and topical products that can be used to treat skin conditions or relieve localized pain.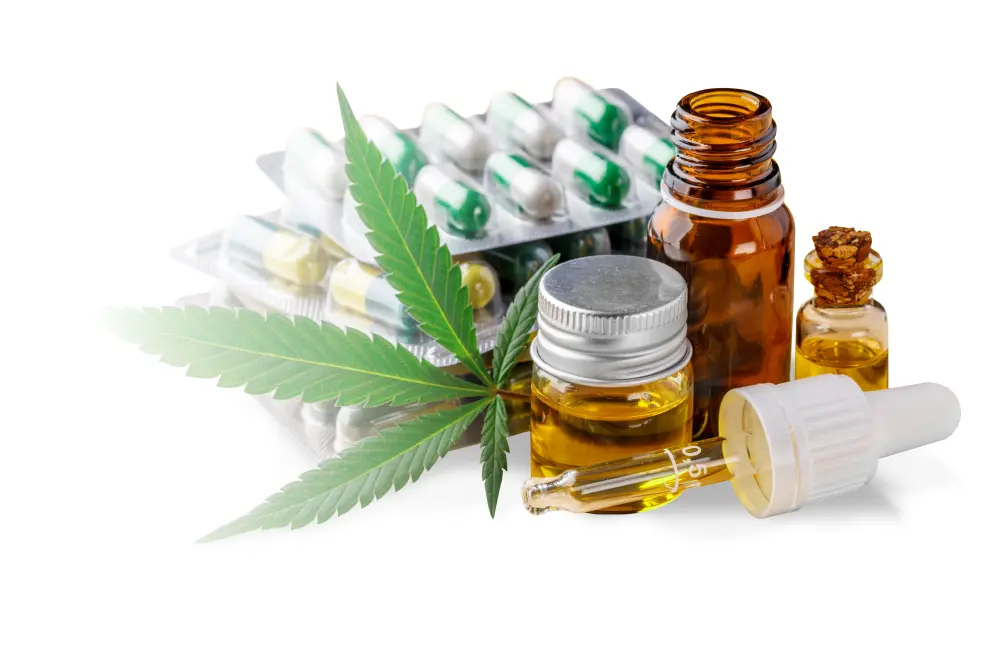 Marijuana doctor near you
We are here to guide you through all registration steps, so you'll get your cannabis card in Ohio fast and easy. Register with Heally and get a personal consultation on how to get a MMIC card in Ohio.
Frequently asked questions about marijuana cards
How do I apply for a medical marijuana card in Ohio online?
To apply for a medical marijuana card in Ohio online, you must first register on the Ohio Medical Marijuana Control Program (MMCP) website and then provide a physician's required documentation and certifications.
Does Ohio accept out-of-state MMJ cards?
Ohio does not currently accept out-of-state MMJ cards.
What are Ohio's weed laws?
As of 2021, cannabis is legal for medical use in Ohio, and laws are being considered to legalize it for recreational use.
What is the price of a cannabis card in Ohio?
The price for a cannabis card in Ohio might depend on your status, whether you are a regular patient, caregiver, or, for example, a veteran.
How do I qualify for a marijuana card in Ohio?
To qualify for a marijuana card in Ohio, one must be a resident of the state and have one of the conditions listed in the state's Medical Marijuana Control Program (MMCP).
How do I renew a cannabis card in Ohio?
To renew a cannabis card in Ohio, one must re-register and provide updated certifications from a physician, this process can be done online via the Ohio Medical Marijuana Control Program (MMCP) website.
Is cannabis legal in Ohio?
Cannabis in Ohio is legal for medical use and illegal for recreational use.
News about cannabis in Ohio

Dr. Krasne
This information was reviewed by Dr. Krasne
Dr. Benjamin Krasne is a board-certified anesthesiologist. After attending the University of Florida, Dr. Ben matriculated to the University of Miami Miller School of Medicine. Dr. Krasne completed his residency at Jackson Memorial Hospital in 2017. Since graduating residency Dr. Krasne has worked throughout the United States as a traveling anesthesiologist while providing remote driven out-patient clinical services as well.
Last update: 06/16/2023