Get a marijuana card online in Texas
Check out cannabis laws in TX and find out if you qualify for an MMJ card in this state. Schedule a consultation with a licensed marijuana physician and get an MMJ card online by HIPAA-protected procedure. You can apply for a medical marijuana card in Texas in just 15 minutes. Heally consultants will answer any of your questions about how to get a medical marijuana card in TX.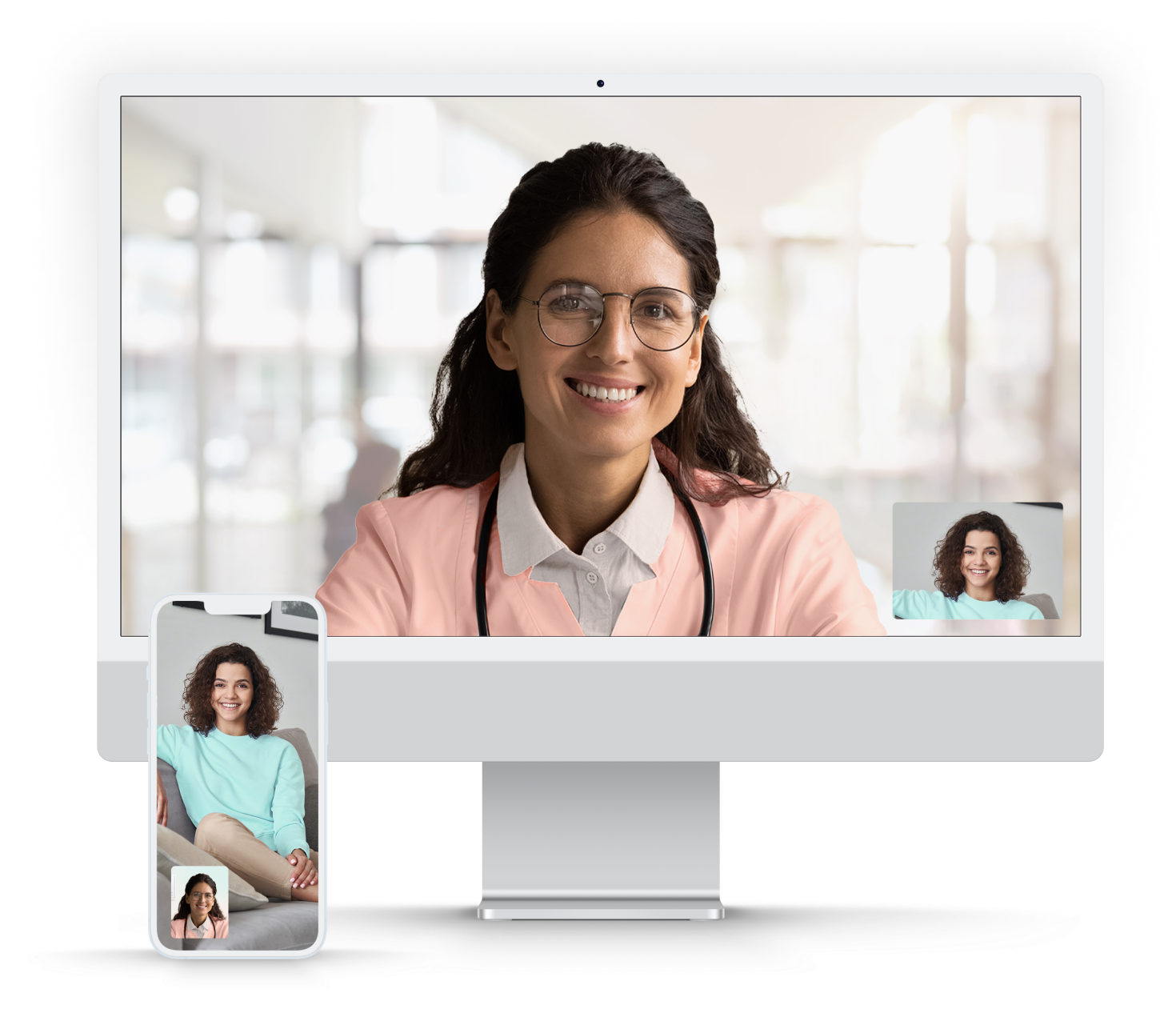 How to get a medical marijuana card in TX?
Consultations with licensed marijuana doctors are available from 8 a.m. to 10 p.m., 7 days a week, and everything can be done online. Heally makes the process of getting an MMJ card fast and easy.
Check Your Qualifying Conditions in TX

The first thing you'll need to do is review the qualifying conditions for a medical marijuana card in Texas. MMJ cards are available for those who suffer from certain medical conditions such as intractable pain, autism, PTSD, etc. Whether you are eligible for medical marijuana treatment - check on our website or book an appointment to receive a professional consultation.

Register with Heally

Fill out our quick intake form to get started with the Texas medical marijuana prescription process. Our platform is designed to accommodate your needs and link you to competent board-certified doctors in the best way possible. Become a part of our supportive community.

Visit Online Consultation With Your Medical Marijuana Doctor

Book your appointment with a certified medical marijuana doctor. You can do this instantly or schedule one at your convenience. Moreover, you don't need to wreck your schedule. Receive professional consultation online any time within working hours without any need to leave your house.

Receive Your Medical Marijuana Card in TX

Your appointment will generally be about 15 minutes. The doctor will verify your qualifying diagnosis and approve medical marijuana therapy for you. They enter prescription these prescriptions into the CURT. When this will happen, fill free to enjoy high-quality healthcare.

Once you have registered with Heally and approved by the doctor, you must log in to your Texas Medical Marijuana registry. There is no set validity period for medical marijuana authorization, and renewal times depend on the doctor. Keep in contact to receive the best therapy.
Texas State Process for Getting Your Medical Marijuana Card
After you've spoken to a Heally physician and been approved for the Texas Low THC program, you don't need to do anything. The next steps are for your physician. The physician will:

Enter your details in their physician profile within the Compassionate Use Registry of Texas, also known as CURT
Once your details have been entered, the state will verify that the details are correct
Testimonials from patients who got MMJ cards with us
4.9 rating of 631 reviews
"
The best place I've found. They make the entire process easy to follow, answer all questions you may have and are always available when you need an initial recommendation or a renew.
"
Easy fast effortless process! Recommend to all!
Jan 13, 2022,
Samantha S.
"
This was so easy and quick!! Recommending to everyone I know!!
"
So Happy with the Dr who saw me AGAIN this year! He was thorough and very personable! Took time to Listen to me. Excellent response from Him and your team! Thank You for Helping Me 🥰
Nov 22, 2021,
Kimberly S.
"
Amazingly stress free and quick. Dr was great and thorough. Easiest visit ever! Thanks!
"
Fast,easy, straight to the point thank you for a efficient visit
Aug 19, 2021,
Hungchih C.
Aug 11, 2021,
Pt: I. M. 0. C.
"
Dr Badii was amazing! He heard me out, allowed me to ask questions, and answered all my questions in a very patient and professional manner. Thank you Dr Badii!
"
Very friendly doctor and easy to talk to. Didn't take long and she was understanding.
"
Vanessa Niles was very compassionate and effective in helping me in a kind, professional manner. Thank you!
"
The whole procedure from beginning to end was easy to complete. They were very helpful and professional.
"
Great experience for my first time! Highly recommend for anyone who's thinking about getting their card.
Jul 22, 2021,
Melinda . M.
"
Dr Kendrick met and exceeded exceptions as she answered each of my questions and we together made sure I completely understood instructions. Excellent communication and truly cares about my well being which tells me she'll care about yours.
"
renewed by card on your web site. Very easy to use and only takes a short time. Doctor was very nice and answered my questions.
"
Dr. Vanessa Niles is the best doctor ever! I appreciate her genuine soul, I will never forget her kindness.
Jul 21, 2021,
Anthony . I.
"
Fast , easy and my doctor was very kind glad I chose heally. Would recommend!
Jul 20, 2021,
Stephanie H.
"
Dr. Jassey has been fantastic the last two years in assisting me with my medical cannabis needs. He's thorough and provides helpful recommendations, all while making the process simple and easy for the patient. Much thanks and appreciation for Dr. Jassey and the heally+ team. Also, thanks to Jovan, whom assisted me through chat to connect to my visit.
Jul 16, 2021,
Christopher M.
"
Amazing service, the doctors are always very nice and they always listen. Never have had a problem through heally and will continue to use them as long as I have a card
Jul 13, 2021,
Danielle B.
"
Such a kind and knowledgeable doctor. She took her time reviewing my medical situation and explaining things to me and she was incredibly helpful in helping me understand the process.
"
Dr. Koffler was very helpful and personable. He explains the benefits and combinations specific to my medical needs and clarifies any questions I have.
"
Excellent, easy to understand very professional service, thank you
Jul 10, 2021,
Cheyenne B.
"
Very friendly and very fast service. I was both surprised and happy with the level of care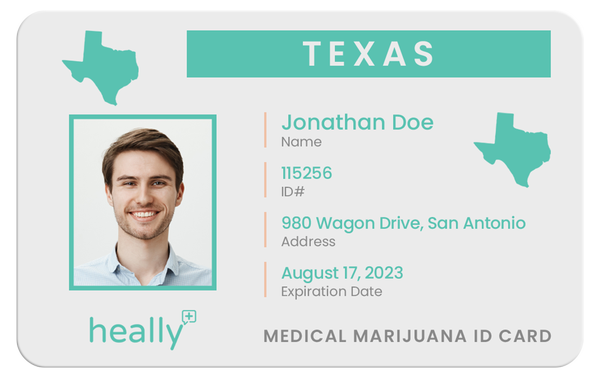 Texas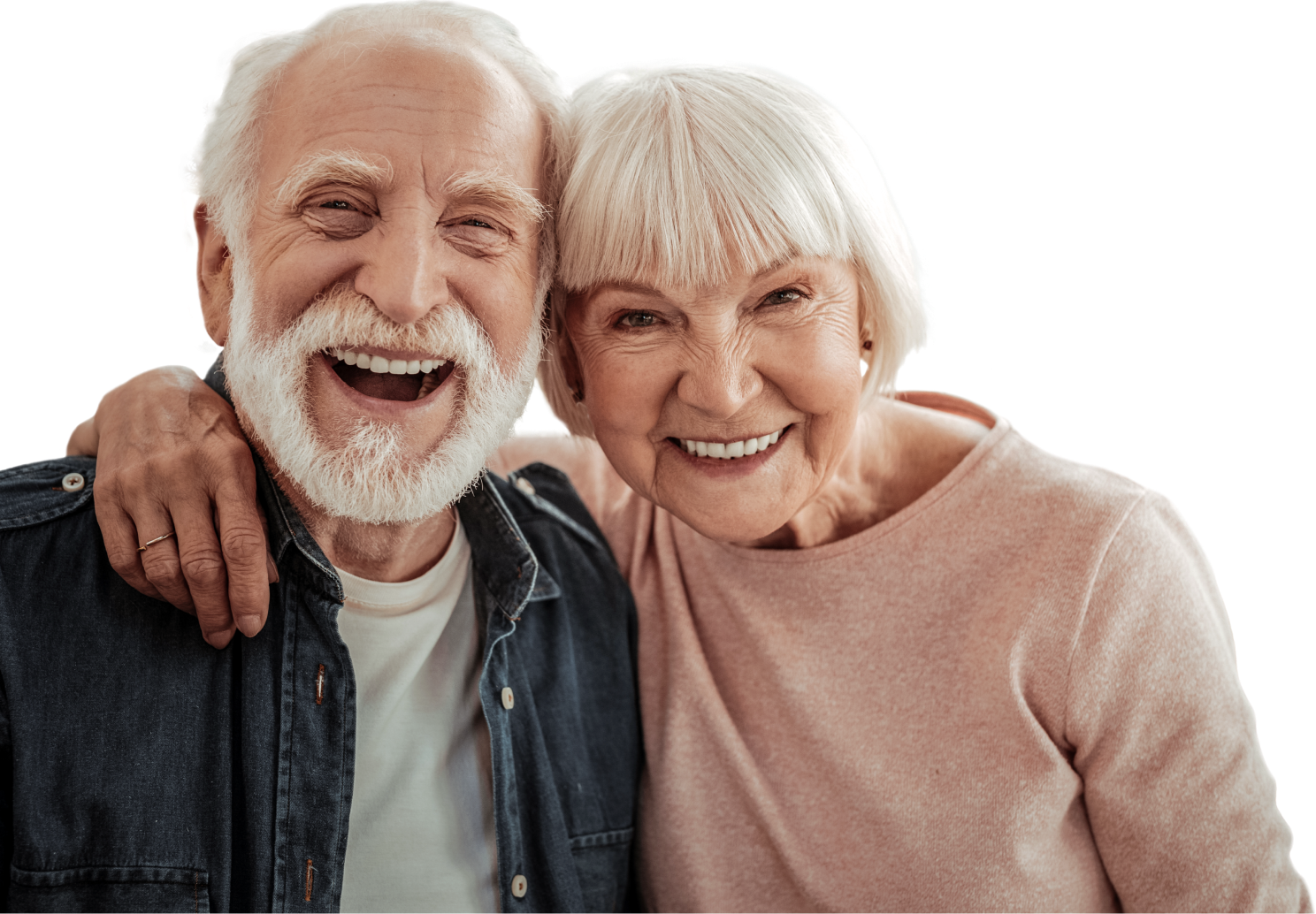 Qualifying conditions for getting an MMJ card in Texas
To obtain a medical marijuana prescription in Texas from a certified doctor, you must have one of the qualifying conditions in order to receive a prescription from a doctor. The list of the current qualifying conditions to gain access to medical marijuana includes the following:
Not sure if you qualify? Don't worry, if the doctor does
not approve you, you will get your money back.
Renew your MMJ card in Texas
To renew a medical marijuana card in Texas in 2023, you must follow these steps:
Determine if you have one of the qualifying medical conditions.
Receive a medical evaluation from a state-licensed doctor. You can use services such as Heally, where you can meet with a qualified medical professional online.
Once approved, your information will be submitted to the Compassionate Use Registry of Texas (the CURT system). Unlike many states, Texas does not charge a fee to register with the state MMJ program.
Fill out your MMJ prescription at your local dispensary.
Texas treats medical cannabis more like a prescription rather than requiring you to renew your registration annually. Renewal times for your prescription depend on the doctor, but most Texas physicians follow up with their patients 2 to 4 times a year, depending on medical need.
Medical marijuana card for minors in TX
In the state of Texas, when it comes to gaining a medical marijuana prescription, age doesn't pose a strict boundary. Individuals across all age groups can potentially access its benefits, provided they receive an endorsement from a qualified physician. Yet, for those who haven't yet reached the age of 18, the state mandates specific safeguarding procedures. Before a minor can access medical marijuana, they must obtain formal approval, either from their parents or, if necessary, their legal guardians.

When a physician deems medical marijuana appropriate for a minor, the process doesn't stop at just the recommendation. The physician is required to ensure transparency and accountability by registering specific details into a system. In this context, the name and social security number of the minor's parent or legal guardian are entered into the Compassionate Use Registry of Texas (CURT), providing a documented pathway that upholds the standards and integrity of the medical marijuana program in the state.
Sign Up
Register a caregiver with Heally in Texas
As for the caregiver, the state's official website mentions that patients under 18 may need a legal guardian, suggesting that a caregiver can assist in obtaining and administering medical marijuana. However, it doesn't specify the process for caregivers of adults. Because Texas doesn't support the MMJ card system and treats medical marijuana as prescribed drugs, caregivers don't need any special registration and just need to have an issued prescription.
Sign Up
Marijuana laws in Texas
In Texas, medical marijuana has been legalized since June 2015, following the enactment of the Texas Compassionate Use Act, which is a part of Chapter 487, Title 6 of the Texas Health and Safety Code. As per the guidelines laid out in this Act, registered patients are permitted to consume cannabis products that have less than 1% tetrahydrocannabinol (known as low-THC cannabis). This medical marijuana program termed the Texas Compassionate Use Program (CUP), is under the purview of the Texas Department of Public Safety (DPS). It's essential to understand that the term 'medical cannabis' in the context of Texas law refers explicitly to cannabis with low THC content, and this must be prescribed by a licensed physician. Additionally, a noteworthy aspect of the state's policy is that registered medical marijuana patients do not have the authority to cultivate marijuana plants within their residences.
Marijuana doctor near you
We are here to guide you through all the registration steps, so you'll get your cannabis card in Texas fast and easy. Register with Heally and get a personal consultation on how to get a medical marijuana prescription in TX.
FAQ for medical marijuana cards and marijuana laws in Texas
How do I apply for a medical marijuana card in Texas online?
There is no such thing as a medical marijuana card in Texas. You need a plain old prescription from a certified therapist. And yes, you can receive it online through our telemedicine resource.
Does Texas accept out-of-state MMJ cards?
Texas does not currently recognize cards issued by other states for medical marijuana. To legally use medical marijuana in Texas, patients must obtain a card designed specifically for the state.
What are the marijuana laws in Texas?
Current Texas marijuana laws accommodate patients almost regardless of their age. You just need to be a current resident of Texas and be older than 18 years old to discuss the medical marijuana approach with a therapist. However, there is a restriction towards marijuana, it needs to be low-THC.
What is the price of a cannabis card in Texas?
A medical marijuana card in Texas costs a different amount depending on the doctor who issues it and the services they provide. In Texas, Heally provides medical card evaluations and recommendations at reasonable prices.
How do I qualify for a marijuana card in Texas?
To qualify for a medical marijuana card in Texas, patients must have a qualifying medical condition, such as cancer, epilepsy, or chronic pain, and obtain a recommendation from a licensed healthcare provider. Additionally, Texas residency and proper identification are requirements for patients.
How do I renew my Texas marijuana card?
To renew your medical marijuana prescription, you need to contact a medical marijuana doctor. After a 10-15 minutes appointment, your information will be added to the system by the doctor, and you will be able to receive medical cannabis legally.
Is cannabis legal in Texas?
While the use of marijuana for recreational purposes is illegal in Texas, medical marijuana is legal for patients with qualifying conditions who have received relevant prescriptions from practitioners. However, there are restrictions on the amount and forms of marijuana that patients can possess and consume.
News about cannabis in Texas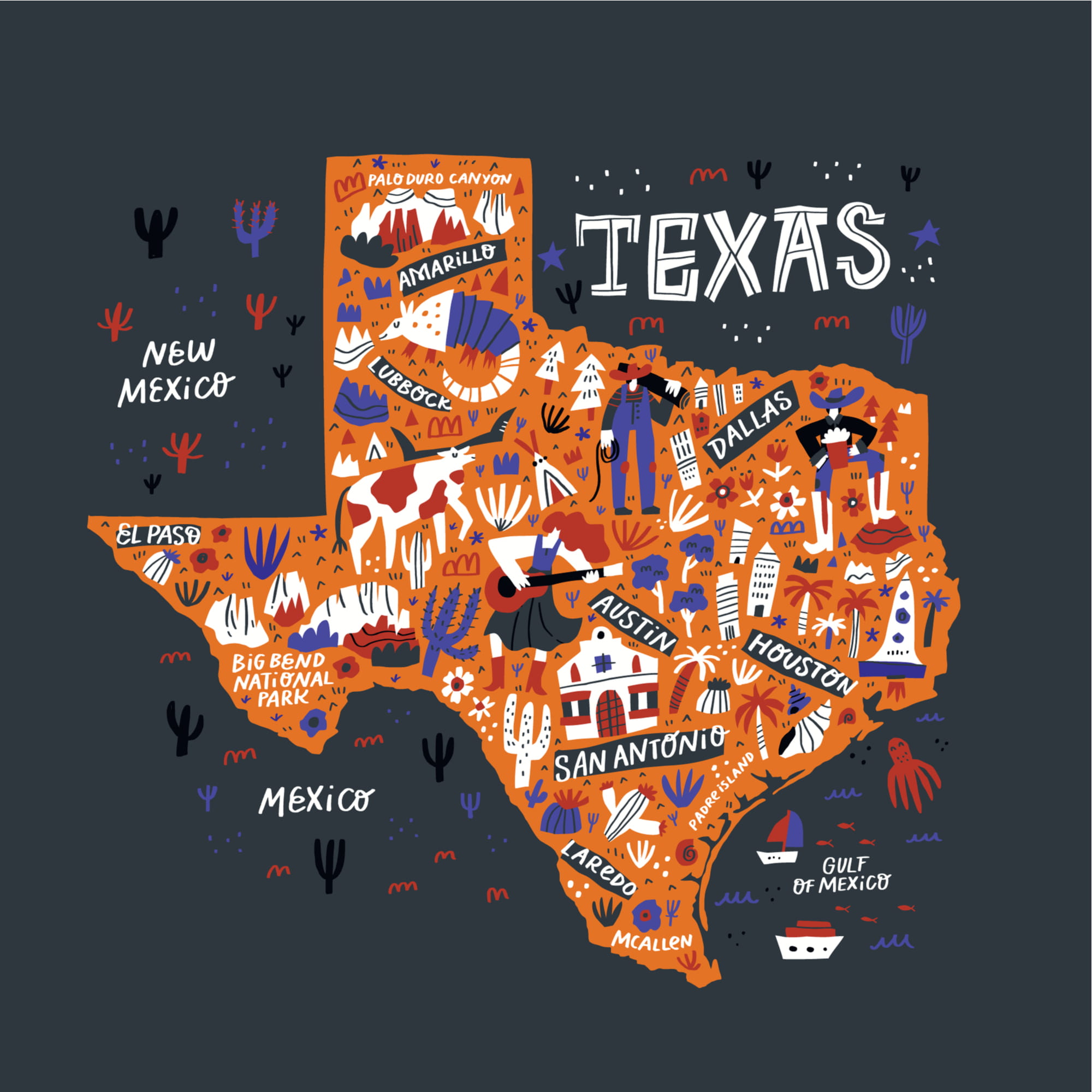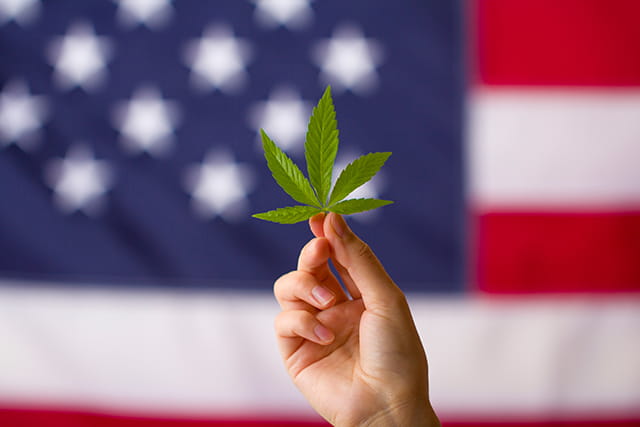 Dr. Krasne
This information was reviewed by Dr. Krasne
Dr. Benjamin Krasne is a board-certified anesthesiologist. After attending the University of Florida, Dr. Ben matriculated to the University of Miami Miller School of Medicine. Dr. Krasne completed his residency at Jackson Memorial Hospital in 2017. Since graduating residency Dr. Krasne has worked throughout the United States as a traveling anesthesiologist while providing remote driven out-patient clinical services as well.
Last update: 06/27/2023