Have you ever wondered if hemp/CBD or cannabis is good for your dog, cat, or pet? With the craze around the medicinal benefits of cannabis, many people are adopting cannabis as an option for their health goals – maybe even in replacement of pharmaceutical drugs. One thing is certain, cannabis (containing THC) should not be given to pets due to the psychoactive effects of THC.
But one question remains: is CBD an equally great option for our furry friends as it is for us? If you're wondering how CBD interacts with your pet's health, you're not alone. Although there has been anecdotal evidence that suggests CBD is a useful supplement for dogs, there have not been formal studies to prove such.
The American Kennel Club's Chief Veterinary Officer, Dr. Jerry Klein, had this to say "Currently, there has been no formal study on how CBD affects dogs. What scientists do know is that cannabinoids interact with the endocannabinoid receptors located in the central and peripheral nervous systems, which help maintain balance in the body and keep it in a normal healthy state."
The good news? We may not be in the dark for long. In what may be the first study of its kind, The American Kennel Club Canine Health Foundation (CHF) recently announced funding for a clinical trial to study cannabidiol to treat drug-resistant epilepsy in dogs at Colorado State University's College of Veterinary Medicine and Biomedical Sciences.

Common questions asked about CBD and Pets
Can CBD make dogs hyper?
Many Veterinarians have documented that CBD acts as a calming agent for high-energy dogs. However, for dogs suffering from long-time chronic ailments, the relief from their pain and symptoms may allow them to feel more active or alert. One study showed that less than 5% of dog owners in the trial noticed an increase in hyperactivity.
Can CBD make dogs aggressive?
Quite the opposite. Many cases of canine aggression are rooted in anxiety. Due to the natural anxiolytic properties of CBD, doses of CBD oil can help to lower a dog's anxiety levels, therefore, reducing aggression.
If your dog is aggressive because it's experiencing pain, the pain-relieving properties of CBD may remove the trigger of the aggression. All dogs are different so there's no absolute answer here, but pet owners have reported positive results.
Can CBD help dogs with allergies?
Human studies have concluded that CBD can help relieve itchy and dry skin. In scientific terms, the activation of CB1 and CB2 receptors encourages the suppression of cellular proliferation (ex: cancer cell growth), the release of inflammatory mediators (molecules that are released by immune cells during times when harmful agents invade our body) as well as the induction of apoptosis (cell death by a virus).
Overall, it has been seen to promote the growth of healthy skin – even gaining the confidence of researchers as a potential beneficial skin cream ingredient. Because CBD is tolerated by the body better than typical anti-itch products, it appears to be a better supplement to the treatment of chronic skin issues than other methods.

What are the common ailments in pets that CBD is helpful for?
Seizures
Most canine seizures are the result of canine epilepsy. Researchers don't yet understand why some dogs continue to experience seizures despite anti-seizure medication. The drugs available today frequently cause intolerable side effects or do not work well enough to control the seizures.
Dr. Stephanie McGrath, a veterinary neurologist at Colorado State University hopes that CBD will offer better control over epilepsy with fewer side effects than prescription drugs. Thankfully, preliminary studies of CBD show anticonvulsant effects which look promising.
Cancer
Several studies have described CBD as a multitarget molecule, acting as an adaptogen (a natural substance considered to help the body adapt to stress), and as a modulator, mainly interacting with specific receptor proteins CB1 and CB2. In animal models, CBD has been shown to inhibit the progression of several cancer types. In addition, CBD can inhibit cell proliferation (cell multiplication, like that in tumor growth) and increase apoptosis (cell death) in different types of cancer models.
Pain
It's been well documented that CBD is anti-inflammatory. This can help to stop swelling and pain associated with inflammation-based ailments like arthritis (inflammation of joint cartilage) or even hives, blisters, or itching. For many pets, inflammation is often the cause of joint and muscle pain. Chronic, inflammatory, or other illness-related pain are all capable of being reduced by the effects of CBD oil for pain in dogs and cats.
How to give CBD to animals:
Will CBD oil hurt dogs? Will CBD oil ease my dogs pain?
The AMVA warns that veterinarians do not know all the possible interactions between pets and CBD products. There is currently no standing FDA process for certifying pet supplements that include CBD. With a lack of clinical trials, Veterinarians can only use anecdotal evidence of the effectiveness of CBD as a treatment for various ailments, though the anecdotal evidence and been both overwhelmingly positive and abundant.
What's the best way to give my pet CBD?
In a study where 30 healthy dogs were given CBD by 3 different delivery methods (oil, capsule, and cream) by the Department of Clinical Sciences at Colorado State University, researchers found that oral CBD-infused oils were absorbed into the dog's system the best. Oil can be dropped into their mouth, or dropped onto treats/food. CBD-infused treats were not tested in this trial, though they are popular on the market, and maybe just as viable.
How much CBD should I give my pet?
In general, CBD oils are always administered in tinctures or drops. The exact amount of drops needed for a dose can vary from one product to another but generally consist of 2-4 drops taken 2-4 times daily, based on the size and weight of your dog, and their level of necessity. This site gives a great breakdown of how to dose your dog. Be sure to start low and slow, as too much has the potential to give dogs diarrhea.
What CBD products should I look into for my pet?
Receptra Pet – CBD Tincture
The Receptra Pet CBD oil tincture is formulated not just to deliver CBD, but also to include Omega 3 and 6 Fatty Acids. These are essential fatty acids, meaning your dog or cat can't produce them naturally and needs to obtain them from other sources. This oil also contains MCT oil to help balance the thyroid, in turn helping overweight dogs lose weight and sedentary dogs feel energetic. Receptra Pet has a natural calming effect on pets that don't respond well to new environments, loud noises or being separated from their owner. This product is intended to be a daily health supplement and is non-GMO, vegan, and organic.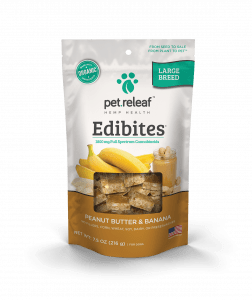 Pet Releaf Large Breed CBD Dog Treats
Treat your dog to a tasty pain-relieving snack packed with organic, human-grade, and whole-food ingredients. Pet Releaf treats were created with the help of veterinarians and a Master Chef to provide the best quality treats. Made in small batches in-house and sent for 3rd party laboratory testing, this product is made with the safety of your pet in mind. Comes in different flavors: Carob & Coconut, Peanut Butter & Banana, Kale & Carrot, and Blueberry & Cranberry.
Select CBD pet drops
Select CBD has created a line of pet CBD tinctures made from hemp-derived CBD extract with a fractionated coconut oil (MCT) base. Choose unflavored, or pick one of their flavored options – salmon, peanut butter, chicken, or bacon. Apply over the top of food, add to water, or give orally.
As we've explained, canines, like humans, have an endocannabinoid system that is involved in neuroprotection, control of inflammation in the central nervous system, and more. The same CB2 receptors in humans are known to diminish the release of pro-inflammatory factors and enhance the secretion of anti-inflammatory cytokines in canines. If your dog is taking other medications, you must speak with a vet who understands CBD.
Overall, CBD is a safe and healthy option for most dogs. Whether you're looking to reduce pain in an old dog, reduce aggression and anxiety in a young dog, or simply give your dog a calming treat for no reason at all, CBD is a natural option you should look into. Fido or Whiskers will thank you!
---
By Bri Smith
This website is informational and cannot diagnose or treat illness or disease. Medical marijuana aka cannabis should be used under the direction of a licensed healthcare provider. This site is intended for adults and legal medical marijuana patients. This site contains links to products we sell on our marketplace.
How does Heally work?
Creating an account is easy, free, and safe on our HIPAA-compliant platform. Visit with a doctor from the comfort of your home or on the go using your cell phone or computer.  No appointment is necessary. If the physician thinks cannabis is right for your health and wellness goals, they will discuss treatment options and will grant you a downloadable certification document. Heally's Telehealth platform currently serves California, Connecticut, Florida, Maryland, Massachusetts, New York, and Ohio with medical recommendations. Please note there's no charge if the doctor doesn't believe the video visit meets her or his standard of care. If you do not live in a medically legal state and would like access to CBD products, visit the Marketplace.  Questions? Contact us at support@getheally.com
Interested in using cannabis as an alternative treatment? Get your cannabis card with a licensed physician.

Give Dad the Gift of Better Health with CBD and Cannabis Private: New Study Shows CBD Supports Heroin Addiction Recovery Youthful Skin With The Help Of CBD How to utilize cannabis, CBD, and other natural supplements to improve your workout