Painful menstruation is not uncommon and can vary from cycle to cycle. More than half of all women who actively menstruate will experience pain during their period. The pain will typically last between 48 and 72 hours, though it can last longer, and is usually worse when bleeding is heavier. 
Menstruation pain occurs when the uterus contracts in an effort to shed the lining (endometrium). When the contractions occur, the blood vessels are compressed which can release pain-triggering chemicals. Prostaglandins are also produced during menstruation, which causes the uterus to contract, even more, causing potentially unbearable period pain. 
Painful menstruation can impact your daily life and traditional methods of treatment are not always effective or worth the potential side effects. Taking a more holistic approach to dysmenorrhea treatment can provide more relief than traditional treatment methods. 
What is Dysmenorrhea?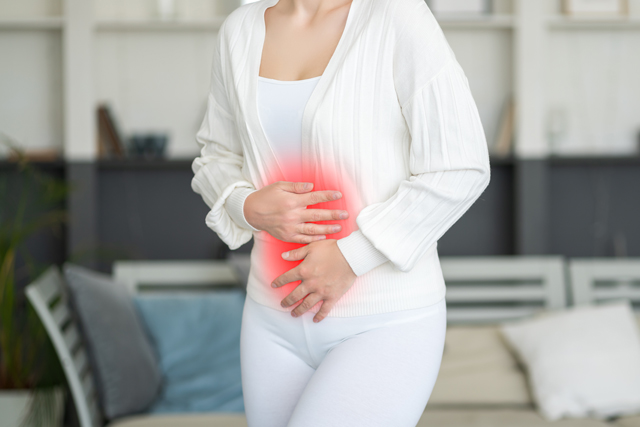 Dysmenorrhea refers to the more painful menstruation cycle. Those who suffer from an unbearable period of pain suffer from dysmenorrhea. Symptoms can be particularly intense and may last longer than typical menstruation pain. 
Symptoms include:
Pain that starts a

few days before the period

, increases shortly after menstruation begins, and subsides within two to three days

Feeling of pressure in the abdomen

Pain and discomfort in the lower back, hips, and inner thighs

Dull, continuous ache
Women may also endure additional symptoms such as nausea or vomiting, headaches, dizziness, fatigue, bloating, and loose stools. Those who suffer from particularly painful menstruation may also suffer from menorrhagia, or a very heavy blood flow. 
Primary Dysmenorrhea
Primary dysmenorrhea is the more common type of dysmenorrhea. This is the cramping and pain that occurs before and during menstruation caused by prostaglandins and the contraction of the muscles and blood vessels in the uterus. 
Those at higher risk of period pain are under age 20 and have never had a child, suffer from menorrhagia, have irregular periods, and hit puberty before the age of 11. 
Secondary Dysmenorrhea
While regular pain when menstruating is common and considered normal, more severe, unbearable period pain is not. Often this is caused by secondary dysmenorrhea. Unlike primary dysmenorrhea which stems from prostaglandins, secondary dysmenorrhea is often the result of an underlying medical condition such as endometriosis, fibroids, or pelvic inflammatory disease (PID). 
This pain lasts longer starting before your period, lasting throughout, and occasionally continuing once it is over. It may get worse as your period progresses and can feel like more unbearable period pain. The diagnosis comes through an ultrasound, CT, or MRI checking for abnormalities. 
Traditional Medicine for Painful Menstruation
There are two traditional routes for pain relief when it comes to painful menstruation. Typically, doctors and patients will begin with pain medication. Nonsteroidal anti-inflammatory drugs (NSAIDs) actively trigger prostaglandins and reduce output, which can lessen the intense cramping pain they cause. Many NSAIDs such as ibuprofen can be purchased over the counter, making them the easiest clinical remedy. 
Doctors will also turn to birth control methods containing estrogen and/or progestin to treat painful menstruation. These can be in the form of combination birth control pills, progestin-only implants, the Mirena IUD, or a combination patch or ring. Sometimes referred to as hormonal therapy, this can be an effective method for reducing menstruation pain each cycle, but there are some downsides.
Introducing a new birth control method can come with an adjustment period that may make symptoms worse before they get better. In fact, it typically takes about 6 months before patients see some consistent relief—and this may not work for everyone. And, these birth control methods do come with some unwanted side effects. Side effects such as weight gain, irritability, headaches, and decreased libido lead many women who are only using birth control to combat painful menstruation to seek other methods. 
How to Reduce Period Pain at Home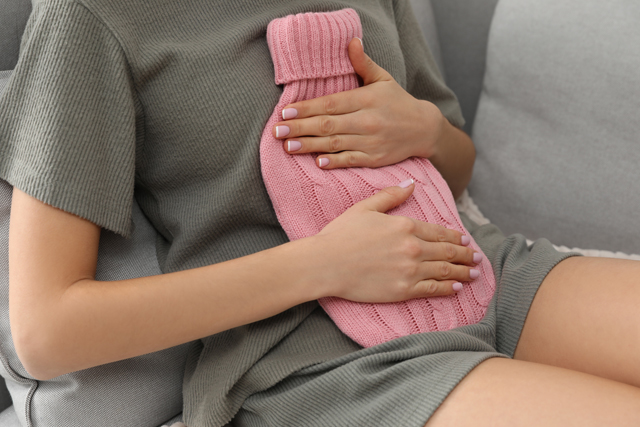 Thankfully, there are evidence-backed holistic pain management and anti-inflammatory methods to treat menstruation pain at home that don't include more traditional dysmenorrhea treatment methods. Though NSAIDs and birth control methods are effective at relieving pain and other symptoms, Quality-of-Life (QOL) improvement will require lifestyle changes. 
Regular Exercise
Exercise is well known to release endorphins and reduce overall stress. It also shows promise in relieving not only menstruation pain but other period symptoms. A meta-analysis of over 300 studies across 17 publications found that exercise reduced many physical symptoms associated with menstruation such as menstruation pain, constipation, and breast sensitivity. It also reduced psychological symptoms like anger and anxiety. 
Vitamins and Supplements
There are several vitamins and supplements that can help to reduce the symptoms associated with dysmenorrhea. 360 mg a day of magnesium can relax uterine muscles and 1800 mg a day of fish oil can help prevent symptoms. 
Calcium and vitamin D levels were also shown to impact menstruation pain. Low levels of vitamin D can actually increase prostaglandin production. Taking calcium and vitamin D supplements has been shown to reduce the severity of primary dysmenorrhea. 
Ginger is a dysmenorrhea herbal remedy. One study showed that those suffering from dysmenorrhea who took 250 mg of ginger four times per day saw the same pain relief as those who took ibuprofen. 
Probiotics are also effective at reducing inflammation, which can cause discomfort during menstruation. 
Acupressure and Acupuncture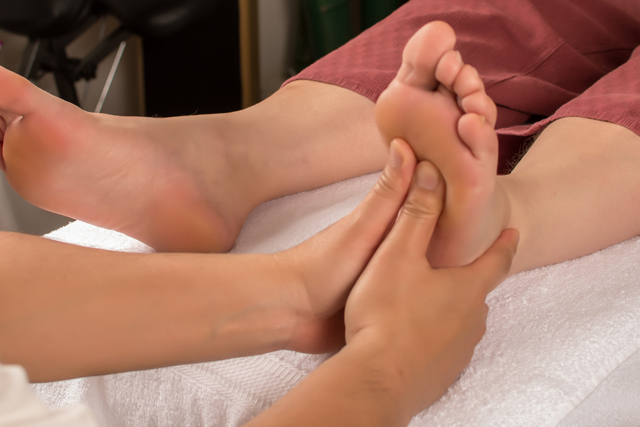 Both acupressure and acupuncture have been known to relieve pain symptoms for those who do not wish to or cannot continue with more traditional pain medications. A meta-analysis of six studies consisting of 461 total participants found that SP6 acupressure was effective at alleviating menstruation pain when performed by trained practitioners. 
The efficacy of acupuncture has also been studied. Researchers saw a significant reduction in menstruation pain and cramps, headache, dizziness, fatigue, and nausea associated with dysmenorrhea. 
Lifestyle Changes
Research has shown that there are some lifestyle changes that can be made to help limit painful menstruation. Dietary changes, like low-fat high-fiber diets, or low-fat vegan diets, can have a significant impact. Plant-based diets can reduce inflammation, which can impact dysmenorrhea. Consuming three or four servings of dairy products daily is also seen to reduce risk. 
Those who suffer from dysmenorrhea are also urged to stop smoking. Smoking is believed to increase period pain. This belief stems from the reduction in oxygen levels in the blood. 
Cannabis and CBD
CBD products for pain relief are increasing in popularity. CBD can be used to treat PMS symptoms and is known to provide acute pain relief, particularly in the muscles and joints. CBD oil and lotions may help to relieve lower back pain during the period duration. There are also medical cannabis vaginal suppositories that are available.  
Cannabinoids are also known to help reduce inflammation. While neither THC nor CBD will reduce prostaglandins, they can increase dopamine levels and reduce inflammation in the nerves and joints. 
Don't let yourself suffer. If traditional methods aren't working or you'd prefer to take a more holistic approach, do so. Talk to your doctor about a holistic approach to period health today. Heally's nationwide network of licensed physicians and specialists is at your disposal. We can arrange for telehealth visits or in-office visits with holistic medicine doctors well versed in cannabis use. Talk to a doctor today. 
Interested in using cannabis as an alternative treatment? Get your cannabis card from a licensed physician.