Having legalized recreational cannabis in 2012, Colorado is a pioneering state for the legalization of cannabis in the United States. It has everything you could want: dispensary tasting rooms, marijuana hospitality establishments, and cannabis cafes. It also has one of the most comprehensive medical marijuana programs in the nation, which was put in place in 2000. It should come as no surprise then that medical cannabis patients have a wide range of product choices at dispensaries.
From dried cannabis flower to edibles, here are all the types of cannabis products available in Colorado. .
1. Dried Cannabis
Benefits: Social, quick onset & relief
If you have a medical marijuana card, you can get up to 2 ounces of dried cannabis. This is compared to the 1 ounce available to recreational users. Dried flower is the ideal cannabis type for patients looking for quick onset and fast relief from symptoms. Why? Smoking and vaping dried flower enable the cannabinoids to hit your bloodstream faster. 
There are many different strains to choose from. Plus, Colorado also allows the sale of a wide variety of accessories, including vaporizers, bongs, and pipes, along with prerolls for your convenience.
2. Edibles
Benefits: long-lasting relief, precise dose, discreet
Medical cannabis patients in Colorado can purchase different types of delicious edibles from licensed dispensaries, from popcorn and cookies to candies and chocolate. The variety and potency of edibles make them an excellent option for those looking for powerful effects and long-lasting relief from symptoms, such as patients suffering from chronic pain.
Consuming edibles is different from smoking dried cannabis in many ways. First, it can take between 30 minutes to two hours for you to feel the therapeutic effects of edibles, while smoking provides immediate symptom relief. Edibles make up for their slow onset with their long-lasting effects, though. Once they kick in, the high of edibles can last between three and eight hours, compared to one to three hours for smoking. You'll also get more of a deeper effect with edibles.
Edibles You Can Buy in Colorado
This sativa-infused edible is for the coffee lovers out there. It's great tasting and offers pain-relieving, feel-good effects.
This 500mg multi-pack includes ten 50mg high-dose gummies. These delicious peach mango edibles offer precise dosing and a great flavor. 
3. Concentrates
Benefits: Quick acting, wide range of consumption methods, powerful
For medical cannabis users looking for greater potency, look no further than concentrates. They retain the most desirable active components of cannabis in a concentrated form for powerful effects.
Cannabis concentrates can be processed in different ways and take many forms, including shatter, budder, extracts, resin, and wax. Medical cannabis patients can purchase and possess 56g of concentrates at a time, compared to 8g for recreational users.
If you suffer from migraine, anxiety, or other symptoms with a quick onset, concentrates are a good option. They're quick acting, taking a mere 90 seconds to hit the bloodstream. 
Local Concentrates in Colorado
This pure, potent THC distillate oil lets you consume cannabis your way. The syringe of oil can be used for dabbing, to fill a vaping cartridge, or even to make edibles.
GOB Extracts' Live Sauce is an indica-dominant concentrate with a high concentration of terpenes. You'll get quick relief of symptoms within seconds with a few dabs of this sauce.
4. Topicals
Benefits: No high, localized pain and inflammation relief, discreet
There are many different varieties of topicals on the market, from salves and balms to lotions and lubricates. There are many reasons to choose topicals over other cannabis types available in Colorado.
First, you won't have any psychoactive effects with topicals. This opens up cannabis as a treatment option for patients who don't want to feel the high traditionally associated with this medicine.
Second, it's one of the best options for medical marijuana patients with localized pain, such as arthritis, headaches, back pain, or knee pain. 
Finally, topicals are also discreet, blending in with the rest of your personal care items.
Topicals Available in Colorado
Get the best of both worlds with the Stratos Soothe topical that combines 100mg CBD and 100mg THC. This salve is designed for maximum absorption of cannabinoids for quick relief. The addition of six essential oils, including clove, peppermint, and arnica, provides a delightful scent and aids with absorption.
This all-natural THC painstick is highly concentrated and rich in vitamins and omega acids, making it a great topical for your skin's health and an effective pain reliever. 
5. Tinctures
Benefits: Discreet, exact dosing, easy to use
Even beginner medical cannabis users can quickly and easily consume tinctures. They come with a measured dropper for precise, simple dosing. Tinctures are created by extracting the active components in cannabis in alcohol. Tinctures can be added to foods or drinks, swallowed, or consumed sublingually for faster absorption by the gums and quicker effects. 
Tinctures that are consumed through foods or drinks, as well as those that are swallowed, are especially helpful in soothing nausea and digestive issues.
Local Tinctures in Colorado

This 1:1 tincture contains 33mg of both THC and CBD to provide maximum therapeutic effects. There are 30 droppers per bottle. The product is gluten-free and flavorless.
6. Capsules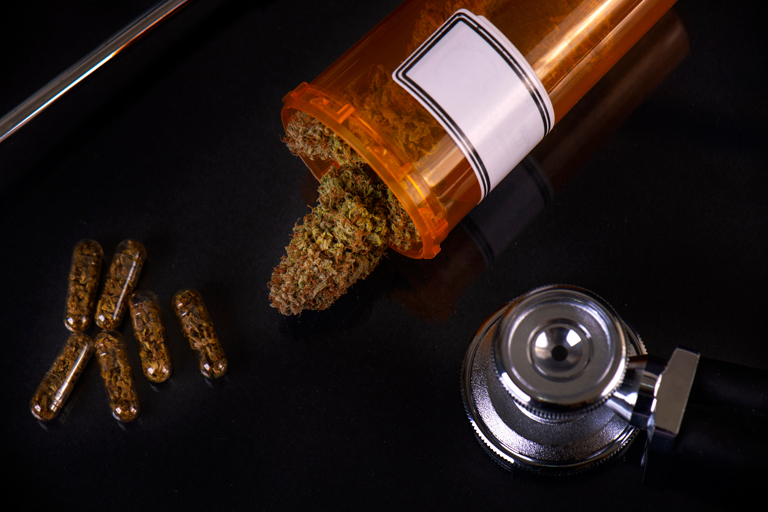 Benefits: Easy to use, long-lasting, measured dose
Cannabis capsules contain whole activated cannabis. They're a great option if you want an easy way to consume medicine. Capsules offer a measured dose, they're discreet, and they're beginner friendly. Because they're long-lasting, they're ideal for those with chronic health issues.
Colorado Cannabis Capsules
These daytime capsules provide users with an energizing and stimulating effect, so they won't reduce your productivity. 
Wonderland's night time THC capsules offer a calming, relaxing effect that will enable you to fall asleep and get a more restful night's sleep free from symptoms
7. CBD
Benefits: Product variety, legal nationwide, user friendly
CBD offers many therapeutic and medicinal benefits without the psychoactive effects of THC. This hemp-derived product is also legal nationwide. Plus, Heally can deliver it straight to your door in Colorado. You can get a wide variety of CBD products, from salves and vapes to gummies and tinctures. There's sure to be a product for your needs and preferences.
Best CBD Products in Colorado
This vape pen offers 1-2 mg of pure CBD extract per 3-second puff to provide powerful and quick relief. The highly refined spearmint essential oils will further invigorate your senses and offer a delightful flavor.
You'll get 30 single-serve CBD powder sachets with 5mg of CBD extract in this pack. The powder rapidly dissolves in hot water and allows your body to absorb CBD more quickly.