Moms run the world. They literally give us life, take on one of the hardest roles, and do it all without an end to their workday or any time off. While moms deserve to be celebrated year-round, Mother's Day is a special time to make sure they know they're loved and appreciated.
This year, give mom something she really wants—and truly needs—by carving out that overdue "me time" for her. She might never take a day off from the many juggling acts of being a mom, but scheduling time devoted to self-care and healthful wellness practices shows her you care about her happiness and well-being. Self-care comes in many forms, so you can tailor an experience you know your mom will love.
Cannabis-infused gift ideas for Mother's Day.
A restorative massage. 
For the woman who does it all, a massage can be a particularly restorative practice that goes beyond simple relaxation. A massage offers many health benefits, especially in terms of pain management, that can be important with age.
Topical THC supplements to enhance her therapeutic massage:
Upgrade her massage experience with topical cannabinoid application to further reduce inflammation and add another level of relaxation.

Made From Dirt Co. Peppermint Pain Salve 1:1 
For even stronger pain relief, let your mom try the combination of cannabis,  Peppermint oil, pine oil, and tamanu oil. Achieving calming effects without the high of edible THC.
A euphoric spa experience she can enjoy from home
If mom prefers to unwind within the comforts of her home, give her everything she needs for an indulgent at-home spa day. Sometimes something as simple as a hot bath can be a luxurious break from the day-to-day and a welcome opportunity to practice mindfulness with a playlist of her favorite song, topped off with:
A bath salt that combines Epsom Salt, Cannabis Flowers (25mg THC and 25mg CBD) and Apricot Kernel Oil, Jojoba Oil, Avocado Seed Oil, Argan Oil & Essential Oils.
At-home facial, with a potent eye cream that features refined hemp extract. The cream lifts, firms and smooths under-eye skin with whiten/brighten technology to relieve the dark circles and puffiness associated with sleep issues and stress.
Help Mom Sleep Peacefully with Cannabis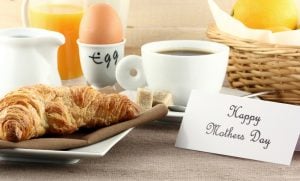 Good health begins with a good night's rest, and if anyone deserves to catch more Z's, it's moms. Breakfast in bed is a classic Mother's Day gesture, but why not expand the gift to include everything she needs for the ultimate shut-eye the night before? Ensure your mom is practicing good sleep hygiene by helping her craft her own sleep ritual.
Instead of counting sheep, the right dose of Indica can be the key to a restorative night of sleep. Whether she's a seasoned cannabis user or just beginning to experiment, there are many ways mom can get a measured dose.
Have a little fun!
Not all self-care needs to be mellow. There's a reason they say laughter is the best medicine. Laughter has been shown to decrease stress hormones while increasing immune cells. This Mother's Day, inspire and share some laughs with a game night or stream a comedy or stand-up session on Netflix.
Get a little silly with some Sativa-infused snacks to really get the giggles going, like strawberry-flavored gummies or chocolate taffy.

For a more streamlined approach to unlocking a euphoric evening in, get straight to it with Blue Dream, a Sativa-dominant hybrid strain.
Bouquets are beautiful and cards can be sweet, but making time for self-care has a much more lasting impact. This Mother's Day, put mom's health first. Treat her to a holistic approach to wellness—with a welcome dose of cannabis—that gives her the tools to take charge of her health and well-being (because we know she's been busy taking care of everyone else).
---
Medical marijuana aka cannabis should be used under the direction of a licensed healthcare provider. This site is intended for adults and legal medical marijuana patients. This site contains links to products we sell on our marketplace.
How does Heally work?
Creating an account is easy, free, and safe in our HIPAA-compliant platform. Visit with a doctor from the comfort of your home or on the go using your cell phone or computer.  No appointment is necessary. If the physician thinks cannabis is right for your health and wellness goals, they will discuss treatment options and will grant you a downloadable certification document. Heally's Telehealth platform currently serves California, Connecticut, Florida, Maryland, Massachusetts, New York, and Ohio with medical recommendations. Please note there's no charge if the doctor doesn't believe the video visit meets her or his standard of care.
Interested in using cannabis as an alternative treatment? Get your cannabis card with a licensed physician.

Give Dad the Gift of Better Health with CBD and Cannabis What to Look for When Buying CBD Your Step-by-Step Guide to Get Your Florida State Medical Marijuana Certification Youthful Skin With The Help Of CBD