130 people die each day from opioid drug overdoses. Opioid drug misuse has become so widespread in America that the U.S. Department of Health and Human Services declared it a public health emergency in 2017. As people look for a solution to the opioid epidemic, a recent study brings hope that CBD can be used as a tool to support addiction recovery by curbing the intense cravings associated with opioid use. Here is all you need to know about CBD and recovery: 
A Crisis Decades in the Making
The roots of the opioid crisis go back to the 1990s when pharmaceutical companies assured the medical community that opioid prescriptions were not addictive. Since that time, the number of opioid prescriptions in America has soared. Doctors issued 232 million prescriptions in 2016 alone. Opioids are used as painkillers and are commonly prescribed as the following:
Morphine

Hydrocodone

OxyContin

Percocet

Vicodin

Demerol
As patients began to crave opioids more and needed higher doses, the accompanying prescription misuse and cost of the pharmaceuticals have caused many Americans to turn to heroin as a cheaper alternative. Improper use and increased dosage of opioids can suppress breathing, often resulting in death.
According to the National Institute on Drug Abuse, the number of opioid overdose fatalities has increased from around 8,000 in 1999 to more than 47,000 in 2017.
How can CBD help solve the opioid crisis?
Researchers have been exploring how cannabis and CBD could play a part in the opioid epidemic solution. Many studies have noted that cannabinoids have exceptional pain-relieving qualities, and some patients have reported reducing or eliminating opioid use by switching to cannabis instead.
One recent study published in the American Journal of Psychiatry illustrates the effectiveness of using CBD to reduce the intense cravings associated with heroin addiction. The May 2019 study explored the use of the first FDA-approved CBD drug Epidiolex. One group of participants received CBD, while another received a placebo. The researchers assessed the effectiveness of CBD in reducing drug cravings and anxiety. They looked at CBD's acute effects, as well as its short-term effects. The results showed that CBD had a significant effect on reducing both drug cravings and anxiety.
How CBD affects the brain
Research has shown that CBD acts on opioid receptors in the body. This blocks opioids from binding, which reduces feelings of euphoria. However, CBD also appears to create euphoric feelings for patients on its own. Additionally, CBD has also been known to reduce inflammation and pain and shows promise in reducing anxiety as well.
Reducing one's cravings is only one part of the recovery process. Another necessary step is to address one's triggers, or in other words, an action, place, or person that can incite a craving. Utilizing CBD to curb other ailments that may trigger opioid use, such as pain and anxiety, can help support a patient's healthy recovery process.
CBD products provide effective relief for addiction cravings
A CBD product could be an effective part of an addiction management program for several conditions. Products high in CBD that can reduce cravings and aid with pain management are: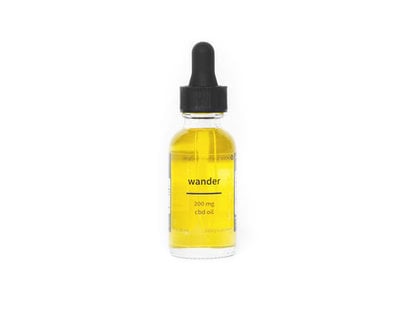 Wander CBD Oil
The new opioid research showed a small dose of CBD helped curb cravings even a week later. Wander's CBD oil is perfect for adding CBD to your diet with an easy-to-dose dropper.
Many patients take opioids for conditions like rheumatoid arthritis. A topical CBD salve like Receptra can offer targeted relief to sore muscles and painful joints to reduce the need for opioids.
CBD isn't the only cannabinoid with pain-relieving capabilities. A combination of THC and CBD can provide even more effective pain relief through the entourage effect.
Cancer patients have often been prescribed opioids for pain. CBD Alive's THC formula, available in a delayed-release capsule, is one alternative recommended by oncologists. Capsules make it easy to dose.
Papa & Barkley's formulations use MCT oil, which increases bioavailability. Better yet, it uses THCa, so you get all the healing THC without the psychoactive qualities. Mixed with an equal ratio of THC to CBD, this is a potent cravings buster.
If you or a loved one are having concerns about opioid use, then talk to a doctor. CBD and other cannabis products can be a much safer alternative for your consideration. You do have a choice.
If you've been diagnosed with chronic pain or another condition, talk to our medical cannabis experts to explore your options. Doctors are available late in some states, so you can find solutions sooner.
---
Medical marijuana aka cannabis should be used under the direction of a licensed healthcare provider. This site is intended for adults and legal medical marijuana patients. This site contains links to products we sell on our marketplace.
How does Heally work?
Creating an account is easy, free, and safe in our HIPAA compliant platform. Visit with a doctor from the comfort of your home or on the go using your cell phone or computer.  No appointment is necessary. If the physician thinks cannabis is right for your health and wellness goals, they will discuss treatment options and will grant you a downloadable certification document. Heally's Telehealth platform currently serves California, Connecticut, Florida, Maryland, Massachusetts, New York, and Ohio with medical recommendations. Please note there's no charge if the doctor doesn't believe the video visit meets her or his standard of care. If you do not live in a medically legal state and would like access to CBD products, visit the CBD Marketplace. We ship CBD products nationwide without a doctor's recommendation. Questions? Contact us at support@getheally.com
Interested in using cannabis as an alternative treatment? Get your cannabis card with a licensed physician.