Medical cannabis was legalized in Pennsylvania in 2016. Pennsylvania MMJ patients and their caregivers can obtain medical cannabis from dispensaries under the statewide Medical Marijuana Program. Patients must be added to the state's registry and have a medical marijuana card to purchase medical cannabis in PA. 
Don't have a medical ID card yet? Connect with a certified physician in your state using Heally's online telehealth services. We make it easy to get a written certification for medical cannabis from the comfort of your home.
Once you have your ID card, you can purchase these types of legal cannabis products in Pennsylvania.
1. Cannabis Dry Leaf or Plant for Vaporization
Benefits: Fast-acting, social
MMJ patients can now purchase dry leaf and plant in Pennsylvania; however, smoking is not legal. Patients may only vaporize this cannabis product. The leaves of the cannabis plant are dried to produce a product that can be consumed using a vaporizer, which heats the plant to release the medicinal properties into the lungs. 
You can get a variety of different ratios of THC and CBD, cannabis's main cannabinoids, in leaf form. 
Local Dry Leaf in Pennsylvania
Try this Pennsylvania cannabis flower if you're looking for high potency from a well-balanced Sativa-dominant hybrid. It contains approximately 1% CBD and 15 to 23% THC content. You'll feel upbeat effects after consumption.
This Indica marijuana flower contains 5.46% THC and 9.33% CBD, making it a high CBD product.
2. Pills/Capsules
Benefits: Easy to consume, measured dose, prolonged effects
Cannabis capsules allow you to consume your medicine without smoking or inhaling vapor. You get all the same health benefits in a convenient pill form. Not only are capsules discreet but they also enable you to more accurately control your consumption levels better than some other types of cannabis products in Pennsylvania. 
Generally, capsules are great for nausea, pain, insomnia, and inflammation, though they can help with other ailments as well. They have few to no side effects. 
Pills and Capsules in Pennsylvania
These Sativa THC capsules come in a 20 pack. After taking a capsule, wait approximately 30 to 90 minutes for effects to kick in, then enjoy the symptom relief for 1-6 hours or longer. 
Choose between 90 mg or 600 mg of these Polaris Indica THC capsules. They're perfect for laid-back, relaxed nights and weekends.
3. Topicals (Gels, Creams, Ointments, etc.)
Benefits: Localized relief of pain and inflammation, no psychoactive effects
Rather than focusing on the traditional consumption methods of ingestion or inhalation, topicals are centered around localized pain and inflammation relief. 
Topicals can come in many forms, such as transdermal patches, ointments, gels, and creams, which are applied to the skin in the specific area that requires relief. Patients with back pain, headaches, and joint pain often choose topicals as their cannabis type of choice. 
With topicals, cannabinoids bind to and only penetrate the network of receptors found throughout the body — without entering the bloodstream. This means topicals are free of psychoactive effects. 
Recommended Topicals in Pennsylvania
Elara offers a perfect 1:1 THC/CBD ratio with a mix of both Sativa and Indica hybrid strains to produce mild euphoria. It's ideal for localized pain and inflammation relief. 
This 1:1 THC/CBD salve offers soothing, restorative powers to target local pain, inflammation, and soreness. It's non-psychoactive and all-natural.
4. Tinctures (Liquid Cannabis)
Benefits: Easy dosing, discreet
A tincture is created by soaking medical cannabis in alcohol to release THC (cannabis's active ingredient). The liquid extract that is created has a stronger effect than the dried plant. 
Tinctures can be consumed in several ways. They can be swallowed directly or placed in foods or drinks. In these cases, the tincture needs to be digested and absorbed, so it takes longer for the effects to kick in. Tinctures can also be taken sublingually, however. In this case, you place the medicine under the tongue, so it can be quickly absorbed by the gums for quick-acting effects. Tinctures can also come in the form of sprays or liquids that are used with vape pens.
Tinctures You Can Buy in Pennsylvania
With 4.7 mg of THC and 1 mg of CBD per 1 ml, this tincture is specially formulated to provide gentle, soothing pain relief. Terpenes in this tincture include caryophyllene, humulene, and camphene.
These liquid Sativa drops will leave you feeling uplifted and creative. Each 1 ml dropper contains 20 mg of THC.
5. Oils, Extracts, and Concentrates
Benefits: Potent, fast-acting
Extracts are created by heating the cannabis plant's oily extracts to get higher concentrations of cannabinoids and, thus, more potent effects. Extracts come in many forms, including wax, shatter, oil, budder, and resin. 
Extracts are typically inhaled using a vaporizer.
Local Cannabis Extracts in Pennsylvania
This concentrate comes in the form of a shatter. It's a hybrid strain with 81.62% THC. Expect the onset of effects to take approximately 3 minutes and last for one to three hours or longer.
This Indica-strain concentrate comes in a resin. It contains 1.91% THC and 65.88% THCA per 0.5 g
6. CBD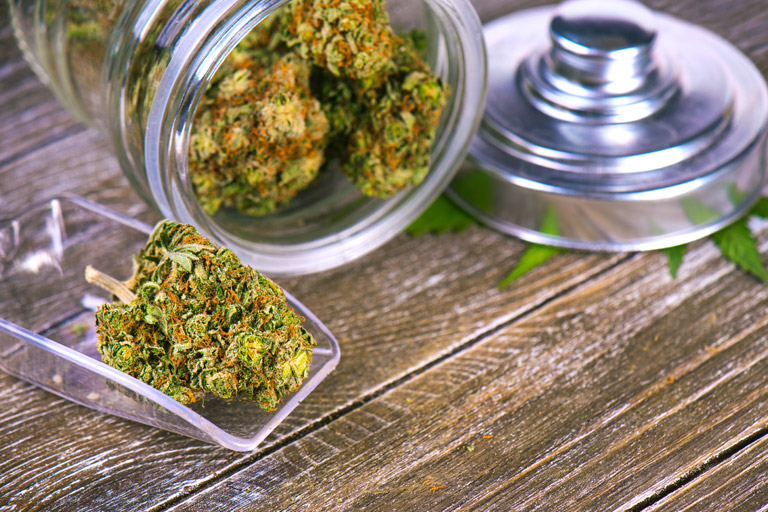 Benefits: Accessible, wide variety of products
CBD, or cannabidiol, is a cannabinoid that's increasing in popularity as a health and wellness product due to its therapeutic properties. It's a naturally occurring cannabis product that's often used to impart a feeling of calm and relaxation, to help with sleep, and to provide anti-inflammatory and pain relief. Unlike THC, it is not psychoactive and won't get you high. 
The best part? It's legal nationwide and Heally can deliver your CBD products right to your door in Pennsylvania.
Top-Selling CBD Products in Pennsylvania
This CBD topical provides immediate cooling action to help alleviate soreness and aid in muscle recovery. Use it to address overuse, irritation, and soreness or to support recovery time and performance.
This must-try lip balm is made with emollient hemp seed oil that provides a luxury skincare experience. It works with all skin types, is cruelty-free, contains all-natural ingredients, and is carbon neutral. Enjoy the fresh vanilla scent.
While these six cannabis product types are legal in Pennsylvania, edibles and smoking cannabis are currently illegal.