In 2016, Florida passed Amendment 2, which allows Florida residents (including "snow birds") who matched certain requirements, to be permitted a Medical Marijuana Card, as well as access to cannabis after receiving a prescription from a state-certified doctor. 
Although medical cannabis is now legal, Florida has restrictions on the types of cannabis that can be sold. In Florida, the five types of legally sold cannabis are concentrates and oils, tinctures, capsules, rubs, and flower.
Medical Cannabis in Florida
Cannabis is available in a few different forms in Florida. Each form offers unique benefits that give patients specially catered outcomes.
Concentrates, oils + vapes
Benefits: Fast-acting, easy to use
Concentrates and oils are allowed for use with a vaporizer or an inhaler. A vaporizer heats up cannabis just enough to release the cannabinoids without exposing the patient to the harmful byproducts that come from smoking it. The effects of vaporizing typically start in as little as 90 seconds. This method is great for fast-acting pain relief for migraines, cramps, back pain, muscle aches, and other ailments. 
Conveniently dosed in cartridges, concentrates are quick and easy to use, while also being portable. Cartridges require a battery, which are sold separately wherever e-cigarettes can be purchased. They can easily be switched from one cartridge to the next depending on what type of relief a patient is seeking. Many companies that make concentrates also make disposable pens, which have a battery and concentrate preassembled for quick and easy use. 
Elara features a perfectly balanced THC to CBD blend, which produces a mild sensation of relief without the drowsiness or lethargy of high THC products. When vaporized in a cartridge, the effects are fast-acting.
Tinctures
Benefits: Precise dosing, very discrete
Tinctures are alcohol-based cannabis extracts that can be taken orally or sublingually. Cannabis tinctures are easy to self-measure and they are one of the best methods of consumption for precise dosing. They act faster than typical edibles, meaning you will feel effects shortly after consumption, instead of having to wait several hours. 
Tinctures are lower in calories than other edibles, discrete, and are recommended for those who prefer fast acting cannabis without all the smoke. This option is great for dealing with headaches, symptoms from cancer, or chronic pain. When choosing a sublingual, speak to a doctor to consider absorption rates.
Elara features a perfectly balanced THC to CBD blend, which produces a mild sensation without the drowsiness or lethargy of high THC products. When absorbed sublingually, cannabinoids are absorbed directly into the bloodstream and the application is very discreet.
Capsules
Benefits: Convenient, prolonged effect
When cannabis is taken in a capsule, the cannabinoids are processed and absorbed by the liver, which prolongs the effects of cannabis. Capsules are pre-dosed and very convenient to take, as they require no smoking, vaping or measuring, and are easily portable. When taking capsules, it may take 30 minutes to an hour for onset effects to be felt, but the effects will be felt longer than with most other methods.
Elara features a perfectly balanced THC to CBD blend. When taken in capsule form, the cannabinoids are absorbed by way of the liver and have a prolonged effect.
Rubs/Topicals
Benefits: Ideal for localized pain, no psychoactive effects
When applying a cannabis-infused product topically by way of lotions or rubs, cannabinoids are absorbed directly into the skin. This transdermal method is ideal for localized pain. Rubs are completely non-intoxicating, making them great for people who want to reap the therapeutic benefits of cannabis without the buzz. They relieve pain and reduce inflammation for the area of application. 
Fluent Elara Topical
Elara features a perfectly balanced THC to CBD blend. When applied transdermally, the cannabinoids are absorbed through the skin and provide localized pain relief. 
Flower/Smokable Marijuana
Benefits: Fast onset, social
In March 2019, Florida Governor Ron DeSantis signed a bill to legalize smoking medical marijuana. Florida patients can now purchase up to 2.5 ounces of whole flower cannabis every 35 days. Smokable marijuana, or flower, has been the most traditional form consumed. Cannabis can be smoked using pipes, hookahs, rolling paper or other inhalation-methods. 
Although smoking marijuana can result in a fast onset, many people struggle with how harsh smoking can be on the lungs. Water bongs can help to cool the cannabis smoke down before it enters the lungs, but health professionals agree that smoke-free methods pose less risk and are medically preferred.
This Indica-dominant strain's effects are heavy and long-lasting, and it has pain and stress relieving qualities. It is recommended to be used in the evening, as it causes sleepiness. This is a great choice for Florida patients dealing with chronic pain or anxiety.
Are edibles legal in Florida?
Currently, Florida does not permit edible marijuana processing or sale. It's possible that the state will allow edible sales in the coming months. Recently rules have been finalized by Florida's agriculture department for medical marijuana growers around edibles, which inches Florida a step forward with edible legalization.
CBD is legal in Florida
Products containing only CBD with none of the psychoactive effects of THC, are available across the United States and may be shipped directly to the home. CBD gives a relaxing sensation while allowing patients to remain clear-headed. 
While there has been a surge of CBD products, it can be easy to get confused by which products offer the best quality. Some popular CBD products are: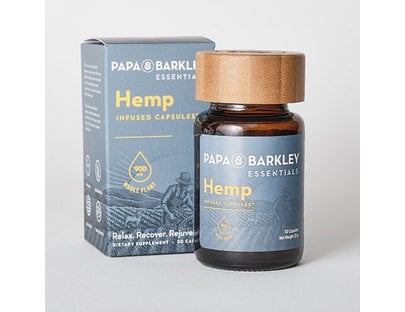 Papa + Barkley CBD Hemp Capsules
Pure CBD oil in a convenient, 30mg-capsule. This Colorado-based producer seeks to make sure each product is of the highest quality. Papa + Barkley focuses on solvent-free extraction and the use of the whole plant, resulting in both broad and full spectrum CBD products that contain the entourage effects of terpenes and flavonoids.
USA Hemp Co. Golden Redwood Flower
For quick relief, CBD flower is an excellent choice. Oregon based company USA Hemp CBD's products are organic, third-party lab-tested and follow a seed-to-shelf tracking process. Golden Redwood is a cross between Sour Tsunami and Cannatonic, two strains that are known for their potent CBD potential.
What's next for Florida's cannabis policy?
Florida voters are likely to see recreational marijuana on a ballot in the upcoming election.  Although recently a bill legalizing recreational marijuana in Florida died without a hearing, the success of the medical marijuana industry makes a case that a recreational marijuana bill will make its way to the ballot by November 2020.
Where to purchase cannabis products in Florida
In Florida, cannabis can only be purchased at Medical Marijuana Treatment Centers, which are state-approved dispensaries. There are close to 100 dispensaries statewide, all of which are run by one of fourteen licensed companies. Currently, all purchases must be made out of pocket, as no insurance companies cover medical marijuana patients. 
Heally offers access to Florida doctors who are well-versed in medical marijuana. Appointments can conveniently be booked online.