Are you in a state where cannabis is not legal?
Hemp-based CBD is for you.
While CBD becomes more and more mainstream, you'll hear more terms used to discuss it. But are we talking about the same thing or are there differences between Cannabis-based CBD and hemp-based CBD?
Both Hemp and marijuana are from the Cannabis family.  Federal law defines industrial hemp as "the plant Cannabis sativa L. and any part of such plant, whether growing or not, with a delta-9 tetrahydrocannabinol (THC) concentration of not more than 0.3 percent on a dry weight basis."
On the other hand, cannabis (AKA marijuana) is the psychoactive dried resinous flower buds and leaves of the female cannabis plant (Cannabis sativa or Cannabis indica) that contains greater than 0.3 percent levels of THC.
The major difference between the two is that cannabis-sourced CBD may also contain THC and other terpenes which work synergistically to deliver the "entourage effect". There is also more potential that the added terpenes will deliver the psychoactive effects that some people label as being "high". Although this is the most beneficial way to consume CBD, it's not the only option. Hemp-derived CBD is still CBD, and our bodies absorb it regardless of the source.
For those who are looking to utilize the benefits of CBD, but are not in a legal cannabis state, hemp-derived CBD products are the best option to utilize CBD. Many brands have formulated products that incorporate other holistic herbs that contain the same terpenes as cannabis plants to add to the medicinal value of the product. Herbs and spices like black pepper, lavender, and citrus contain some of the exact same terpenes as cannabis plants such as Beta-Caryophyllene, Linalool, and Limonene.

Let's go over a few hemp-based CBD products on the CBD Marketplace that work for both those in legal and non-legal states.
Good CBD-only options for pain relief
Studies have shown that CBD interacts with neurotransmitters and impacts endocannabinoid receptor activity which may help to reduce chronic pain. Topical options are great for localized application which can help with muscle or joint pain.


Papa and Barkley's CBD Hemp Pain Balm
brings together the natural anti-inflammatory effects of eucalyptus, tea tree oil, peppermint, and lavender with the medical benefits of CBD to create an aromatic and soothing option for pain. The extra oomph from these anti-inflammatory herbs aid in alleviating the underlying cause of most chronic aches and pains. This hemp balm also utilizes beeswax, a naturally occurring antibacterial that retains moisture to keep skin hydrated. This product delivers a warming and cooling sensation when applied to a targeted topical area. Due to the non-psychoactive nature of CBD, more salve can be applied for stronger effects without the worry of feeling high.
Just get done with a tough workout, or feeling the strain on muscles from a hunny-do chore weekend? Rubbing an infused lotion on sore muscles may spring you back into shape.
Select CBD Muscle Rub
Select CBD Muscle Rub utilizes a fractionated coconut oil base and is infused with 250 mg of hemp-based CBD and other terpenes. Massaging stiff muscles helps to break up lactic acid build-up. By utilizing a CBD-infused lotion, you put CBD exactly where your body needs it.
CBD-only products for anxiety and depression?
CBD oil has shown promise as an aid for decreasing both depression and anxiety, leading many who live with these disorders to become interested in this natural approach. In one study, 24 people with social anxiety disorder received either 600 mg of CBD or a placebo before a public speaking test. The group that received the CBD had significantly less anxiety, cognitive impairment, and discomfort in their speech performance, compared to the placebo group.
USA Hemp Co Carolina Dream CBD Flower
is a high CBD strain which is a cross between the very popular and CBD-rich strain AC/DC and it's own mother, Cannatonic. AC/DC contains anxiolytic terpenes, such as Beta-Caryophyllene, Linalool, Beta-Myrcene, Alpha-Pinene, D-Limonene, all known to deliver a variety of helpful effects for pain, depression, and anxiety.
Papa & Barkley
has gained a reputation for quality products to aid in pain and anxiety management. Put it under your tongue or in your cheek and wait for as much to absorb as possible. If absorbed in the mouth, effects should be felt within 10-20 minutes. You may swallow some as well, but it may take a little longer for the CBD to absorb into your system. This tincture comes packed with 450mg of CBD, so you can dose throughout the day if necessary.
CBD-only products to alleviate cancer-related symptoms
Although CBD may be helpful in reducing pain, when it comes to cancer-related pain, a whole-plant option that contains both THC and CBD is best. One study looked at the effects of CBD and THC in people with cancer-related pain. Those treated with an extract containing both compounds experienced a reduction in pain compared to those who received only one of the terpenes.


Liposomes are one of the best methods for delivering CBD to the body. Liposomes are essentially molecular fat bubbles with high bioavailability, which delivers nutrients more efficiently than other routes (like food or supplements).
One brand that utilizes liposomes to carry CBD is Elixinol CBD Oil Liposomes. The brand utilizes liposomes to ensure CBD can pass through bodily membranes with ease. Liposomal CBD can be mixed with water or taken directly under the tongue as a spray. This oil is naturally sweetened with stevia herb extract wand real fruit flavors. This extract does not utilize isolated or synthetic cannabinoids and does not use chemicals in the extraction process.
CBD products for skin care and the reduction of acne
In one study, CBD reduced sebum production. Sebum is the oil produced in your skin, and when too much is produced and trapped in the pores, it may cause acne. CBD oil may help treat acne due to its anti-inflammatory properties and ability to reduce sebum production.

This highly nourishing and moisturizing oil is packed with essential fatty acids, antioxidants, and vitamins that protect the skin, along with 200mg of hemp CBD. Ylang ylang and lavender essential oils are blended in, to uplift and relax.
I want to quit smoking, is there a good CBD-only vape pen?
It's no secret that cigarettes kill millions of people every year. One study aimed to determine if replacing cigarettes with a CBD vape pen could impact smoking addiction. In a randomized double-blind placebo-controlled study, participants were asked to smoke the pen (or the placebo) any time they had an urge to smoke a cigarette – as often as they needed to. At the end of the study, smokers that received the placebo reported no difference in the number of cigarettes they smoked. However, smokers that received CBD reduced the number of cigarettes they smoked during the study by 40%.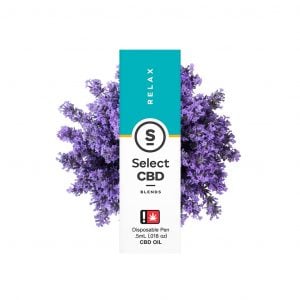 Select CBD pens utilize essential oils to pack a holistic punch into their CBD pens. Looking for that extra spice when you puff? Invigorating flavors like lavender, cinnamon, and spearmint add that extra kick where you need it.
What about Fido? Should I give CBD to my dog?
Studies have shown that animals have a similarly positive reaction to CBD, which pairs up with their endocannabinoid system. It's been seen to help with anxiety, joint pain, lethargy, and appetite.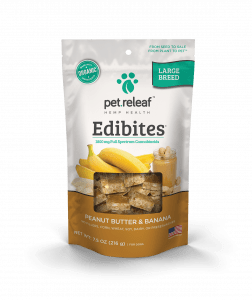 Treat your dog to a tasty pain-relieving snack packed with organic, human-grade and whole food ingredients. Pet Releaf Treats were created with the help of veterinarians and a Master Chef to provide the best quality treats. Made in small batches in-house and sent for 3rd party laboratory testing, this product is made with the safety of your pet in mind. Comes in different flavors: Carob & Coconut, Peanut Butter & Banana, Kale & Carrot, and Blueberry & Cranberry.
Which product should you use?

These products can be interchanged and utilized for the same purposes. CBD's benefits as an anti-inflammatory, anxiolytic, stress-reliever and pain reducer remain the same regardless of the product. Whether ingested, inhaled, or applied topically your endocannabinoid system will go to work utilizing CBD.
Do you have a product you'd like to suggest? Leave it in the comments.
---
By Bri Smith
This website is informational and cannot diagnose or treat illness or disease. Medical marijuana aka cannabis should be used under the direction of a licensed healthcare provider. This site is intended for adults and legal medical marijuana patients. This site contains links to products we sell on our marketplace.
How does Heally work?
Creating an account is easy, free, and safe in our HIPAA compliant platform. Visit with a doctor from the comfort of your home or on the go using your cell phone or computer.  No appointment is necessary. If the physician thinks cannabis is right for your health and wellness goals, they will discuss treatment options and will grant you a downloadable certification document. Heally's Telehealth platform currently serves California, Connecticut, Florida, Maryland, Massachusetts, New York, and Ohio with medical recommendations. Please note there's no charge if the doctor doesn't believe the video visit meets her or his standard of care. If you do not live in a medically legal state and would like access to CBD products, visit the Marketplace.  Questions? Contact us at support@getheally.com
Interested in using cannabis as an alternative treatment? Get your cannabis card with a licensed physician.

Give Dad the Gift of Better Health with CBD and Cannabis Private: New Study Shows CBD Supports Heroin Addiction Recovery Youthful Skin With The Help Of CBD How to utilize cannabis, CBD, and other natural supplements to improve your workout