Want to know how to get a medical marijuana card in Rhode Island? Obtaining a certification or getting accepted to a medical marijuana program can be a complicated process in many states.
However, in Rhode Island, so long as you can verify your residency, the process is surprisingly straightforward and simple. 
In this article, we'll cover all of the steps that you need to take to receive a medical marijuana card in Rhode Island. Typically the process will take about 5 to 10 business days. Before we go over the step-by-step process, it's important that you have an understanding of the medical marijuana laws in Rhode Island to determine if you are qualified for a license and follow relevant laws once you obtain it. 
For further information, please refer to the Rhode Island Department of Health page on their medical marijuana program. 
Let's begin.
Determining if a Patient is Qualified
Firstly, there are several requirements that patients must meet to qualify for a medical marijuana license in Rhode Island. To qualify, a patient must:
Be a resident of Rhode Island –

Only residents of the state are qualified to receive a medical marijuana license. Proof of residence can come in the form of a Rhode Island driver's license, State ID card, car insurance bill, voter registration card or any correspondence from another state agency
Be diagnosed with a qualifying condition –

Before you can be approved for a valid medical marijuana license in RI, you have to have been diagnosed with one of a number of qualifying conditions. We've listed these qualifying conditions below.
Provide medical records –

For eligibility, you must be able to provide medical records that confirm the diagnosis of a qualifying condition.
Obtain a signed physician's statement –

Patients must visit a doctor who then recommends medical marijuana as a treatment for their condition. 
Additionally, Rhode Island does allow for qualified out-of-state patients to access and purchase marijuana from their dispensaries. Out-of-state patients only need to bring their relevant home-state documentation. This provides a path for out-of-state patients to gain access to medical marijuana without having to turn to the black market.
Qualifying Conditions for Medical Marijuana Card in Rhode Island
Rhode Island's medical marijuana policy outlines a number of conditions that would qualify a patient for a medical marijuana license in the state. Rhode Island's qualifying conditions list is a bit longer than those in other states.

Cancer

Glaucoma

HIV/Aids

Hepatitis C

Autism Spectrum Disorder

Cachexia

Wasting Syndrome

Chronic Pain

Severe Pain

Nausea

Seizures/Epilepsy

Severe or Persistent Muscle Spasms

Multiple Sclerosis

Crohn's Disease

Agitation Related to Alzheimer's Disease
The language of the law in Rhode Island also opens up medical marijuana to treatment for other conditions, so long as they are approved by the Department of Health. That is an entirely separate process, but still requires a doctor's recommendation.
How to Get A Rhode Island Medical Marijuana Card: 3 Steps
Fortunately, compared to other states the process of applying for a medical marijuana card in Rhode Island is simple.
Let's break down exactly what you'll need to do, step-by-step.
Step #1: Get Your Practitioner Written Certification Form
First, you'll have to get in touch with a healthcare practitioner in Rhode Island that is willing to look at your medical history. If you meet the qualifying conditions, they must be willing to complete the Practitioner Written Certification Form on your behalf. Make sure that you bring all relevant health history documentation with you to this appointment. 
This form states that you, the patient, meet at least one or more of the qualifying conditions. It serves as a recommendation for a marijuana prescription, stating that marijuana will be a safe and effective treatment for the qualifying condition. 
Unlike in other states, Rhode Island does not require that you have tried traditional treatments for the condition before applying. 
Keep in mind that some doctors are not willing to sign the Practitioner Written Certification Form and make it a policy not to recommend marijuana as a treatment for any condition. To avoid these situations, you can use Heally to connect with a medical marijuana doctor online in Rhode Island.
Step #2: Register for Your Rhode Island Medical Marijuana ID Card
Once you have obtained your signed Practitioner Written Certification Form, you then need to complete the Patient Application Form, available on the State's website. 
In this form, you'll be required to provide details about yourself along with a valid phone number and email address. After you submit both forms together, your registration will be evaluated and may take several days before being approved. 

Step #3: Wait for Approval
Once you submit the Practitioner Written Certification Form and Patient Application Form, it's a waiting game. Most applications are approved or denied within 5-10 business days of both forms being submitted. 
Once the application is approved, you'll be contacted by the Rhode Island Health Department to schedule a photo to be taken for the ID card. They will issue you an ID card that location, which enables you to visit one of the state's dispensaries to make a purchase. Rhode Island has many available medical marijuana dispensaries. Here are the types of marijuana you will be able to purchase in Rhode Island.
Additional Considerations for Minors
The steps outlined above are for adult patients who do not need to designate a caregiver or authorized purchaser on their behalf. 
Minors who qualify for medical marijuana should authorize a caregiver and purchaser because legally they are unable to enter dispensaries. To enter a dispensary, you must be 18 years of age or older. Additionally, only a parent or legal guardian may be a designated caregiver for a minor.
What About CBD?
CBD is another viable option for many medical marijuana patients and is federally legal nationwide. This means that there is a chance that you may even find CBD in your local drug store. Unlike THC products, you do not need a Rhode Island medical marijuana certification to purchase CBD products. Most importantly, CBD is non-intoxicating and supports broad health and wellness initiatives.
We'll deliver quality CBD products straight to your door. We ship our CBD products anywhere in Rhode Island and the rest of the United States as well. 
Wander CBD Oil
This CBD oil is ingredient-driven and responsibly sourced. Wander features the quality ingredients to create a multi-faceted approach to support your wellness routine. It tastes great with no unnecessary additives.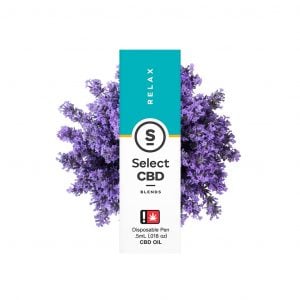 Select CBD Relax – Lavender Vape Pen
The purest extract available, enriched with highly refined lavender essential oils. This soothing blend is your ticket to calm and tranquility in your daily life. This self-contained, easy to use ceramic core technology evenly distributes heat to the oil.
---
Medical marijuana aka. cannabis should be used under the direction of a licensed healthcare provider. This site is intended for adults and legal medical marijuana patients and contains links to products we sell on our marketplace.
How does Heally work?
Creating an account is easy, free, and safe in our HIPAA compliant platform. Visit with a doctor from the comfort of your home or on the go using your cell phone or computer.  No appointment is necessary. If the physician thinks cannabis is right for your health and wellness goals, they will discuss treatment options and will grant you a downloadable certification document. Heally's Telehealth platform currently serves California, Connecticut, Florida, Maryland, Massachusetts, New York, and Ohio with medical recommendations. Please note there's no charge if the doctor doesn't believe the video visit meets her or his standard of care. If you do not live in a medically legal state and would like access to CBD products, visit the CBD Marketplace. We ship CBD products nationwide without a doctor's recommendation. Questions? Contact us at support@getheally.com
Interested in using cannabis as an alternative treatment? Get your cannabis card with a licensed physician.