Figuring out the steps that you need to take to secure your medical marijuana card in Maine can be a bit confusing. For example, Maine's official platform, the Medical Use of Marijuana Program, provides a lot of information but it is dense and difficult to comb through. Additionally, Their website doesn't spell out a step-by-step process that interested patients can take to secure their medical marijuana card either. 
The good news is we're here to help. In this article, we'll show you the exact steps that you need to take to receive your medical marijuana certification in the state of Maine. 
Determining if a Patient is Qualified
To receive your medical marijuana certification in Maine, you must be a Maine resident. However, you can purchase cannabis from medical dispensaries within the state (after 2020) without being a resident of the state, as Maine now recognizes medical certifications from 25 different states. The states approved for visiting patients are highlighted on the map below: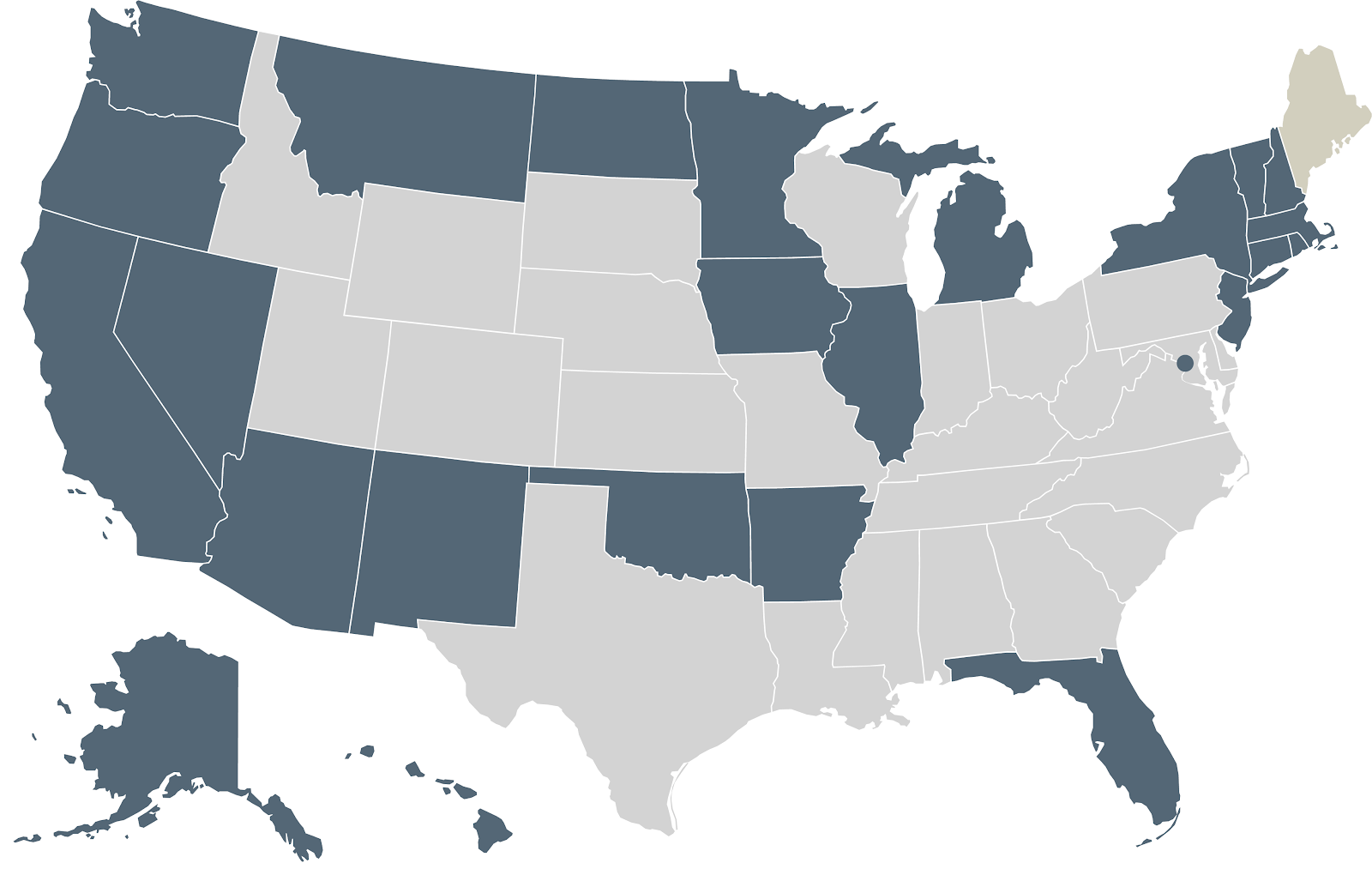 Source: Maine Office of Marijuana Policy
To be an independent medical marijuana certified patient in Maine, you must be 18 years of age or older. For patients younger than 18, a parent must register as their primary caregiver. 
Qualifying Conditions for Medical Marijuana Card in Maine
In Maine, there are several conditions that can qualify you for a medical marijuana card. To be eligible, a physician will have to diagnose you with one of these conditions. It must be documented in your medical records. 
The current list of qualifying conditions for a medical marijuana certification in Maine includes:
Chronic Pain 

ALS 

Alzheimer's Disease

Cachexia 

Cancer

Crohn's Disease

Glaucoma

Hepatitis C (active form)

HIV

PTSD

Seizure Disorders

Severe Muscle Spasms 

Severe Nausea
These conditions are very specific, outside of "Chronic Pain" which leaves judgment up to the physician. To receive a medical marijuana certification for chronic pain, you need to have tried conventional treatments for at least six months and found it to be ineffective. 
The doctor that recommends you for certification does not have to be the same doctor that diagnosed you with the original condition. 
How to Get A Maine Medical Marijuana Card: 2 Steps
Now let's break down the exact steps that you need to take to secure your medical marijuana card in Maine. The process is actually quite simple compared to other states'. 
Step #1: Find a Physician
There are some differences between the medical marijuana program in Maine and programs that exist in other states. 
In Maine, you do not receive your Medical Marijuana certification from the State of Maine. Instead, your physician is responsible for evaluating you, analyzing your medical history, determining if your medical history qualifies you, and registering you for the Maine Medical Use of Marijuana Program (MMMP).
The first step toward receiving your certification is to meet with a doctor who is willing to examine you and make a recommendation to the MMMP. However, this can be a bit difficult, as not all physicians agree with, or are required to enter qualified patients into the program. 
Fortunately, here at Heally, we specialize in connecting qualified patients with doctors who are open to CAM (complementary and alternative medicine) and support local medical marijuana programs. We'll connect you with a physician that specializes in medical marijuana certification in Maine. 
Sometimes, your medical marijuana card may be issued within hours of your visit with your physician. 
Click here to find Maine medical marijuana doctors.
Step #2: Consult with the Physician
Once you've connected with a qualified Maine medical marijuana physician, then comes your actual appointment.
If you have been diagnosed with a qualifying condition, there are a few pieces of documentation that you will need to make sure that you bring to your consultation. These include:
Proof of residence & Mailing Address in Maine –

For most, this will be a driver's license or a passport. An official document that confirms that you reside within the state. 

Payment –

Using Heally, your total cost will be $80 per year for the consultation and certification. You only pay if you are approved for your Maine medical marijuana certification. Medical marijuana cards in Maine last for one year.

Social security number  –

Providing your social security number is a requirement for certification. 

A copy of your medical records –

You will need to be able to provide that you meet the qualifying condition requirements when you meet with your physician. 
How to Get Your Medical Records
You can secure copies of your medical records from your doctor, or have them delivered to your physician from your existing general practitioner (this requires that you submit a Medical Release Form). 
If you do not have copies of your medical records, it is unlikely that your physician will be able to approve your certification on the same day as your visit. Federal law states that all healthcare providers must issues patients a copy of their personal medical records within fifteen days of submitting a formal request. 
During the Consultation
During your consultation, you'll discuss several topics with your physician, including:
How medical marijuana can relieve your symptoms.

Any side effects you may experience from its use.

Information on cannabis strains, dosage, and consumption considerations. 
It may be a good idea to ask your doctor if CBD might be a treatment option to consider as well.
Once approved, your doctor will be able to certify and register you with the Maine Medical Use of Marijuana Program and print your license to buy from local dispensaries. If you can provide all of the necessary information during your visit with your physician, you could be buying medical marijuana from the dispensary that same day.
What About CBD?
Another viable option for many medical marijuana patients is hemp-derived CBD products. These products are legal and available nationwide. Additionally, you can purchase these products without a medical marijuana card as well. CBD products are non-intoxicating and support broader health and wellness initiatives. 
CBD Delivered To Your Door
At Heally, we'll deliver high-quality CBD products straight to your door. We ship our CBD products anywhere in the United States. 
Select CBD Relax – Lavender Vape Pen – 250 mg
The purest extract, enriched with refined lavender essential oils. The Select CBD Relax brand provides a soothing blend that promotes calmness and tranquility. One three-second puff of the vape pen provides 1-2 mg of CBD. Select's ceramic core technology evenly distributes the heat to the oil. With Select vape pens, you can reduce inflammation and ease pain.
Kushy CBD Peach Gummy – 100 mg
The Kushy CBD gummies provide full-spectrum CBD oil in a delicious candy form. These gummies are gluten-free, fat-free, and dairy-free. Consuming Kushy CBD gummies can help to ease inflammation, reduce pain, and lessen anxiety!
Secure Your Maine Medical Marijuana Card Today
Heally makes it easy to get started. Click here to begin the process and speak with a Maine medical marijuana doctor and find the relief you've been searching for.  
---
Medical marijuana aka cannabis should be used under the direction of a licensed healthcare provider. This site is intended for adults and legal medical marijuana patients. This site contains links to products we sell on our marketplace.
How does Heally work?
Creating an account is easy, free, and safe in our HIPAA compliant platform. Visit with a doctor from the comfort of your home or on the go using your cell phone or computer.  No appointment is necessary. If the physician thinks cannabis is right for your health and wellness goals, they will discuss treatment options and will grant you a downloadable certification document. Heally's Telehealth platform currently serves California, Connecticut, Florida, Maryland, Massachusetts, New York, and Ohio with medical recommendations. Please note there's no charge if the doctor doesn't believe the video visit meets her or his standard of care. If you do not live in a medically legal state and would like access to CBD products, visit the CBD Marketplace. We ship CBD products nationwide without a doctor's recommendation. Questions? Contact us at support@getheally.com
Interested in using cannabis as an alternative treatment? Get your cannabis card with a licensed physician.