The Michigan Medical Marijuana Program (MMMP) allows qualifying medical marijuana patients to register for a Medical Marijuana Registry Identification Card in order to purchase, possess, and consume cannabis for medical purposes in the state.
While recreational cannabis was legalized in Michigan in 2018 for adults 21 years of age and older, and recreational dispensaries are now open for sale after a slow roll-out, it may still be recommended for you to get a medical card in this state. This will allow you to treat your symptoms with regular dosage under a doctor's care.
COVID-19 Update
Medical marijuana dispensaries in Michigan are considered essential and remain open for online ordering, delivery, and curbside collection during the COVID-19 pandemic. As the state's economy begins to reopen, some retail locations in "medium-risk" regions have been given the green light to resume in-person services with face coverings and social distancing measures in place.
During this time, new MMJ patients must still head to a clinic to undergo an in-person exam and consultation with a registered physician in order to complete their application for a medical marijuana card. However, existing registered patients can use telehealth services to renew their cards from the comfort of their homes. 
Quick Guide to Michigan MMJ
There are three basic steps to getting a medical marijuana card in the state of Michigan:
Determine Your Eligibility: To qualify as an MMJ patient in Michigan, you'll need to have been diagnosed with a qualifying medical condition and have medical records as proof. 
Submit Your Application: Fill out an online or paper application with the Michigan Department of Licensing and Regulatory Affairs (LARA).
How to Get a Michigan Medical Cannabis Card in Three Steps
1.  Determine Your Eligibility
Before you can move forward with this process, you'll need to first determine whether you qualify for the Michigan Medical Marijuana Program. You'll need to be a resident of Michigan with proof of residency.
To qualify, you must have been diagnosed with one of the qualifying conditions recognized by the state:
Agitation of Alzheimer's disease

Amyotrophic lateral sclerosis (ALS)

Arthritis

Autism

Cancer

Cerebral palsy

Chronic pain

Colitis

Crohn's disease

Glaucoma

Hepatitis C

HIV/AIDS

Inflammatory bowel disease

Nail patella

Obsessive compulsive disorder (OCD)

Parkinson's disease

Post-traumatic stress disorder (PTSD)

Rheumatoid arthritis

Spinal cord injury

Tourette's disease

Ulcerative colitis

A chronic or debilitating disease or medical condition or its treatment that produces one or more of the following:

Cachexia or wasting syndrome

Severe and chronic pain

Severe nausea

Seizures

Severe/persistent muscle spasms 
Not only do you need to have been diagnosed with one of these conditions to qualify, but you need to have legitimate medical records from your primary care physician confirming this diagnosis. If your primary care physician will not move forward with aiding you to get a medical marijuana card, don't be afraid to request your medical records, so you can find another physician who will be willing to provide a certification. Remember, you have the right to your medical records and you don't need to give your doctor a reason for the request, so do not be afraid to ask for them.
All you will need to do to receive your medical records is fill out an authorization form and patient access request and send it back to your doctor's office, typically via mail. Within five to ten business days, you should have your records.
2. Book an Appointment with a Physician
While many physicians in Michigan are becoming more knowledgeable, tolerant, and accepting of medical cannabis, many still aren't comfortable providing their patients with a written certification. 
If your physician won't give you written documentation, finding a new doctor who will is easy. Just sign up with Heally. We'll connect you with a registered Michigan physician, so you can book a consultation and move forward with your application process. 
Currently, only medical doctors (MDs) and doctors of osteopathic medicine and surgery (DOs) that are licensed to practice in Michigan can sign a certification for medical cannabis. The doctor you consult with must have a registered account with the Michigan Department of Licensing and Regulatory Affairs (LARA).
At the appointment, you'll undergo a brief physical examination, go over your medical history, and answer questions. This is also a good time for you to ask your own questions about medical cannabis. Then, the physician will determine if you qualify as an MMJ patient. If so, they'll provide you with written documentation.
3. Submit Your Application
For a medical ID card in Michigan, you need to submit a completed application form, a Physician Certification Form, and the application fee. It's easy to apply once you have all your documents in order. 
During this last step of the process, you'll submit an online or paper application to join the Michigan Medical Marijuana Program. If you apply online, you'll create an account with the Michigan Department of Licensing and Regulatory Affairs.
The application fee is $60. If you're enrolled in Medicaid or are receiving government benefits, the application fee is reduced to $25.
These days, LARA offers same-day registration, which enables you to temporarily use an approval email in lieu of a valid ID card. This allows you to get your medication the same day you register. 
With your approval email or ID card in hand, all that's left to do is visit a dispensary to get your cannabis products.
CBD Products in Michigan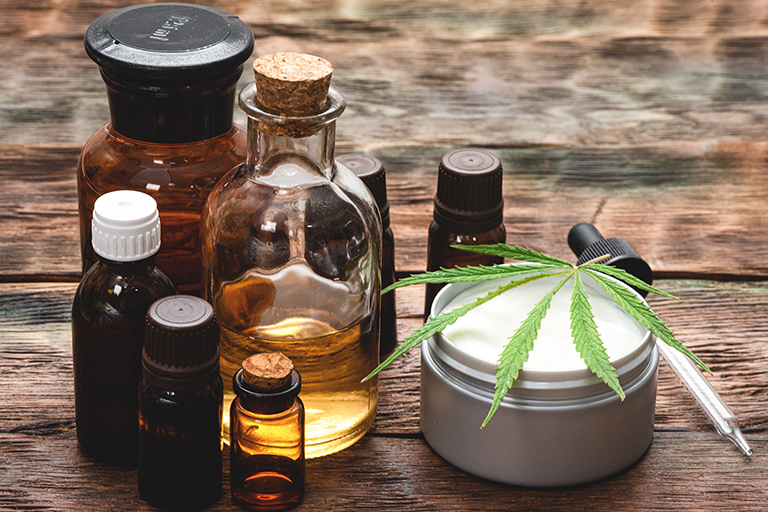 CBD and cannabis go hand in hand and can intensify each other's therapeutic effects. CBD is legal nationwide without an ID card and Heally can ship any products from its marketplace to you in Michigan.
Try out some of these top recommended CBD products.
Use a multi-pronged approach to support your health and wellness with this minty CBD balm.
Get a better night's sleep with this non-psychoactive hemp-derived CBD oil with melatonin. You'll wake up feeling alert and refreshed.