If you are wondering how to get a medical marijuana card in Mississippi, Medical cannabis advocates in the Magnolia State, rejoice: Mississippi voted to legalize medical marijuana during the 2020 presidential election. The MMJ bill easily passed by a wide margin with 74% of voters saying yes to Initiative 65. While the biggest hurdle has now passed, there's still, unfortunately, a long way to go before residents in the state will actually be able to buy medical cannabis.
The Mississippi State Department of Health (MSDH) will first have to establish regulations for the program, which is expected to take some time. 
The good news is that the MSDH is expected to adopt regulations for the MMJ program by July 1, 2021, and start issuing medical marijuana cards by August 15, 2021. In just a few months, you will hopefully be able to start the process to get your ID card to legally purchase medical cannabis.
While the regulations haven't been established yet, some specifics were laid out in the amendment, which can provide a general guide for the likely process you'll have to go through to get your MMJ card later this year.
Quick Guide on How to get a Medical Marijuana Card in Mississippi 
There will likely be three basic steps to getting a medical marijuana card in Mississippi.
Determine Your Eligibility:

The amendment has already made clear which qualifying conditions will be required for an MMJ card. 

Get a Certification from a Physician:

Like other states, Mississippi will require you to be certified by a physician before you can get an MMJ card. 

Register with the MSDH:

The final steps to register for a medical marijuana card has not yet been finalized, but you will likely have to register with the government to receive your card.
How to Get a Medical Marijuana Card in Mississippi in Three Steps
1. Determine Your Eligibility
The MMJ amendment has already outlined certain specific requirements for eligibility into the Mississippi medical marijuana card program. In this amendment, 22 qualifying conditions have already been approved. 
Along with having a diagnosis of one of the qualifying conditions described below, you will also need to be 18 years of age or older and be a resident of the state to qualify for the program.
Eligible medical conditions for Mississippi's medical marijuana program include:
Intractable nausea

Pain refractory to appropriate opioid management

Cachexia (wasting due to chronic illness)

Agitation from dementia

Sickle-cell anemia

Spinal cord disease or severe injury

Other conditions where a physician believes the benefits of marijuana would outweigh the risks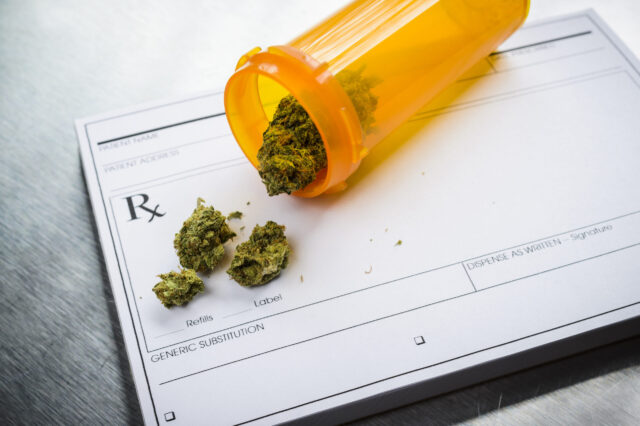 Mississippi residents who want to obtain a medical marijuana card will have to get certified by a physician. According to the state's law, a physician, certified nurse practitioner, physician assistant, or optometrist licensed to practice medicine in the state of Mississippi are able to provide certification. 
The law says patients must have a "bona fide practitioner-patient relationship within his or her scope of practice." This means the practitioner has completed an in-person assessment of the patient's medical and mental health history, along with a few other stipulations. In a nutshell, the practitioner must meet with patients in person and obtain a thorough background of their medical history. 
3. Register
Applying with the state of Mississippi is the final step to obtaining your medical marijuana card. The state's Department of Health says there's a five-day approval time for patients. First-time patients will pay an application fee of $25 and the fee for nonresident patients is $75. If you're a Medicaid participant, it costs just $15 to apply for a medical marijuana card in Mississippi. Disabled veterans and disabled first responders won't pay a fee at all by providing qualified documentation attesting to their disability. 
Medical marijuana patients in Mississippi would be allowed to possess 3.5 ounces per month and purchase 3.5 grams of flower (or 1 gram of concentrate) per day.
Find a Doctor in Mississippi
Ready to be the first in line to get your medical marijuana card in Mississippi? Heally's network of holistic doctors will help you find a licensed physician who can recommend medical cannabis to you, should you qualify.
In the meantime, our physicians can integrate other aspects of natural wellness into your healthcare routine, like homeopathy and breathwork. Just fill out our online form to speak with a doctor and we'll be in touch with you soon.
Interested in using cannabis as an alternative treatment? Get your cannabis card with a licensed physician.