Ohio has struggled to implement a thriving, modern cannabis policy. Although Ohio medical marijuana passed in 2016, many Ohio cannabis patients have criticized how the program has been implemented, citing insufficient supply, high prices, and other problems. However, as the Ohio cannabis economy picks up, growers and new dispensaries should alleviate these issues. Here's how to get a medical marijuana card in Ohio.
COVID-19 Update
Regulators have recently passed emergency rules to slow the spread of the highly contagious novel coronavirus by minimizing exposure. These new rules have temporarily changed cannabis laws. Medical cannabis patients in Ohio see some of the most significant changes due to COVID-19. The information provided here has been updated to reflect these new rules for patients trying to learn how to get prescribed medical marijuana in Ohio.
Quick Guide to Ohio MMJ
There are three necessary steps to getting certified for an Ohio medical marijuana card:
Determine (with your doctor) if you have a qualifying condition for a medical card in Ohio. Ohio law enables doctors to treat patients with many serious illnesses. MMJ can also be prescribed for severe pain.
Request a medical card recommendation via online consultation. Previously, Ohio required patients to visit a physician with a special certification to recommend cannabis in person. Due to COVID-19, Ohio is now allowing patients to get a medical card recommendation via online consultation. If the physician believes cannabis is an appropriate treatment, they'll enter you in the database for a medical marijuana card in Ohio. You'll need to have an accepted ID card (e.g., an Ohio driver's license) ready for your online consultation. If you don't currently have a physician to prescribe cannabis, we can connect you to an Ohio MMJ doctor for a quick and safe evaluation from your own home.
Confirm and pay for your registration. Once your doctor signs you up, you'll receive an email. You'll be able to confirm your license, pay the $50 fee, and download your card in a few steps.
How to Get an Ohio Medical Marijuana Card in Three Steps
1. Determine if your condition qualifies for MMJ in Ohio
To become a medical cannabis patient, you must have a qualifying condition for a medical card in Ohio. Ohio MMJ is primarily restricted to particular medical conditions:
AIDS, or HIV-positive status

ALS (

Amyotrophic Lateral Sclerosis, also known as

Lou Gehrig's Disease)

Alzheimer's disease

Cancer

Chronic traumatic encephalopathy

Crohn's disease

Seizure disorders (e.g. epilepsy) 

Fibromyalgia

Glaucoma

Hepatitis C

IBD (Inflammatory Bowel Disease)

Multiple sclerosis

Parkinson's disease

Post-traumatic stress disorder

Sickle cell anemia

Spinal cord injury or disease

Tourette's syndrome

Traumatic brain injury

Ulcerative colitis.
However, the state also allows patients to obtain an Ohio medical marijuana card to treat "pain that is either chronic and severe or intractable," with no rule that it needs to stem from a particular illness. Additionally, the State Medical Board of Ohio periodically holds submission periods, when citizens can request that new conditions be added to the medical program. There's a good chance that there will be supplemental illnesses designated as qualifying conditions for an Ohio medical card over the coming years.
2. Visit a CTR Certified Physician
Suppose a person wants to know how to get prescribed medical marijuana in Ohio. In that case, they need to be registered for medical cannabis, and a physician needs to have a Certificate to Recommend (CTR) from Ohio's State Medical Board. Check with your primary care doctor to see if they have a CTR. Heally can take the stress out of applying for your Ohio medical marijuana card by connecting you with an Ohio CTR certified doctor.
You'll need to make an in-person visit and bring along an Ohio Driver's License, State ID, or Passport. During your visit, the doctor will evaluate whether medical cannabis is an appropriate treatment for your condition. If they agree it is, they'll submit a recommendation to the patient registry. Doctors can recommend up to one year of treatment (a 90-day prescription with three refills.) After one year, you'll need another appointment to be reevaluated by your MMJ doctor.
3. Confirm and Pay For Your Registration
One nice thing about Ohio's medical marijuana program is that there's not much paperwork for patients. Once the doctor registers you, you'll receive a confirmation email inviting you to complete your registration (check your spam folder if you don't see it.)
Click the link in the email. You'll be directed to create a password and log in to Ohio's medical cannabis system. Then make a $50 payment and download your Ohio medical marijuana card. You can either print out a copy or keep one on your phone to show at the dispensary.
Purchasing Cannabis in Ohio
Once you've registered, you'll be able to purchase medical cannabis products at an Ohio dispensary. Bring your medical marijuana card and the same ID card you used for your doctor's office visit. Ohio associates whatever ID you showed the doctor with your MMJ card, so you may not be able to purchase cannabis with a different legal ID card.
Ohioans and Michigan Medical Cannabis
Right now, cannabis supplies are low, and prices are high in Ohio. As of March 2019, an ounce of cannabis costs more than twice as much as in Michigan, and local dispensaries don't service many areas. Michigan does accept Ohio medical marijuana cards, but unfortunately, cannabis purchased in Michigan becomes illegal once it enters Ohio — even if you are a legal, medical patient.
It's unclear to what degree the law will be enforced against patients with a valid Ohio card, but it's best to be cautious. Patients should be aware of how the Ohio criminal justice system treats marijuana outside of the medical program. Possession of up to 100 grams is a misdemeanor punishable by a $150 fine or less. Even with an Ohio medical marijuana card, at 200 grams, users can face up to 30 days in jail and a $200 fine, and at higher levels, they face felony charges and longer jail terms.
Ohio Medical Cannabis Risks and Restrictions
Ohio's medical marijuana law is more restrictive than many states, which could put you at legal risk if you don't know the law. While typically MMJ programs allow patients and caregivers to grow a small supply for medicinal use, Ohio patients cannot legally grow cannabis, even if they have qualifying conditions for a medical card in Ohio.
Additionally, smoking cannabis is still illegal for Ohioans, as is carrying pipes, bongs, or other paraphernalia used to smoke MMJ. However, medical users can legally transport vaporizers and use other forms of cannabis, such as tinctures and edibles.
Regardless of having an Ohio medical marijuana card, the state is also very strict about driving under the influence of cannabis. Officers can charge you based solely on a field sobriety test or acting in a way that they perceive as showing impairment.
Finally, Ohio does not offer legal protection to medical cannabis users. Your boss can fire you for a positive drug test, and you will be ineligible to receive unemployment — even if you have a valid medical card.
Cannabis CBD Products for Ohioans
Ohio legalizing medical cannabis is a good start, but the program suffers from deep flaws. Even with an Ohio medical marijuana card, it's difficult and expensive to obtain marijuana in the state legally, and it may put you at risk of losing your employment.
Fortunately, CBD products are entirely legal in Ohio, providing many of the healing benefits of cannabis without THC intoxication. Here are some great products for medical cannabis users.
Papa & Barkley CBD Hemp Drops – 450mg (15ml)
This potent CBD tincture is produced naturally from high-quality hemp grown in Colorado and extracted without harsh chemicals or solvents. This product is a tremendous all-around tincture, useful for anything from arthritis and migraines to insomnia.
Elixinol Organic Balance Tincture
Elixinol's Organic Balance Tincture is a full-spectrum tincture rich in CBD and other beneficial cannabinoids, flavonoids, and terpenes, enhancing the healing properties of cannabis. It's also a certified organic USDA tincture, ensuring a pure extract from a responsibly grown plant.
Kushy CBD Gel Capsules – 30mg (30 caps)
Get the right dose of CBD every time! These capsules are made from Non-GMO cannabis, with 30mg of CBD. The product is made with no additives or preservatives and lab-tested to ensure purity and consistent dosage.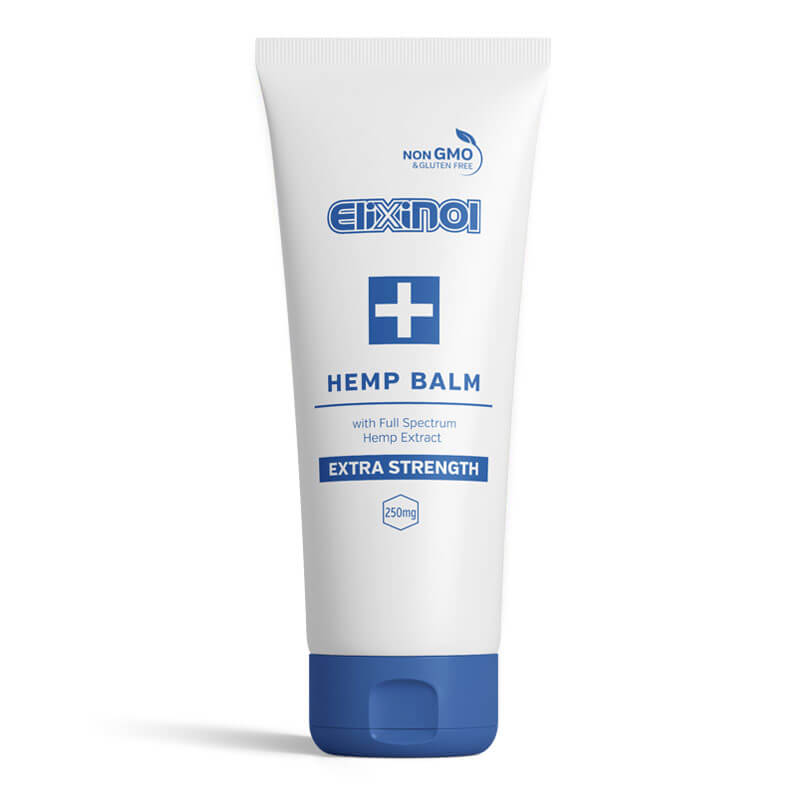 Elixinol Extra Strength CBD Hemp Balm
If you're hurting in a few spots, this is the topical CBD product for you. Elixinol Extra Strength features 250mg of CBD in a potent full-spectrum extract in an all-natural lotion. Made without parabens, phthalates, and other synthetic ingredients, this plant-based lotion is perfect for post-workout aches and pains, as well as other localized pain and discomfort.
---
Medical marijuana aka. cannabis should be used under the direction of a licensed healthcare provider. This site is intended for adults and legal medical marijuana patients and contains links to products we sell on our marketplace.
How does Heally work?
Creating an account is easy, free, and safe in our HIPAA compliant platform. Visit with a doctor from the comfort of your home or on the go using your cell phone or computer.  No appointment is necessary. If the physician thinks cannabis is right for your health and wellness goals, they will discuss treatment options and will grant you a downloadable certification document. Heally's Telehealth platform currently serves California, Connecticut, Florida, Maryland, Massachusetts, New York, and Ohio with medical recommendations. Please note there's no charge if the doctor doesn't believe the video visit meets her or his standard of care. If you do not live in a medically legal state and would like access to CBD products, visit the CBD Marketplace. We ship CBD products nationwide without a doctor's recommendation. Questions? Contact us at support@getheally.com
Interested in using cannabis as an alternative treatment? Get your cannabis card with a licensed physician.